24.05.2021 | Reports of Original Investigations | Ausgabe 8/2021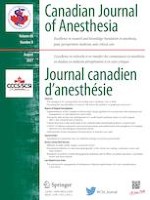 Implementation of the Canadian Cardiovascular Society guidelines for perioperative risk assessment and management: an interrupted time series study
Autoren:

MD, MSc Daniel I. McIsaac, MSc Joshua Montroy, MD Sylvain Gagne, MD Chris Johnson, MD Jacelyn Ernst, MD Samantha Halman, MD Jeffrey Oake, MD James Chan, BScN Susan Madden, MD Simon Feng, MD Michelle Moody, MD Cedric Godbout Simard, PhD Monica Taljaard, MSc Madison Foster, PhD Dean A. Fergusson, PhD Manoj M. Lalu
Wichtige Hinweise
Supplementary Information
Publisher's Note
Springer Nature remains neutral with regard to jurisdictional claims in published maps and institutional affiliations.
Abstract
Purpose
The Canadian Cardiovascular Society (CCS) guidelines for patients undergoing non-cardiac surgery address the lack of standardized management for patients at risk of perioperative cardiovascular complications. Our interdisciplinary group evaluated the implementation of these guidelines.
Methods
We used an interrupted time series design to evaluate the effect of implementation of the CCS guidelines, using routinely collected hospital data. The study population consisted of elective, non-cardiac surgery patients who were: i) inpatients following surgery and ii) age ≥ 65 or age 45–64 yr with a Revised Cardiac Risk Index ≥ 1. Outcomes included adherence to troponin I (TnI) monitoring (primary) and adherence to appropriate consultant care for patients with elevated TnI (secondary). Exploratory outcomes included cost measures and clinical outcomes such as length of stay.
Results
We included 1,421 patients (706 pre- and 715 post-implementation). We observed a 67% absolute increase (95% confidence interval, 55 to 80;
P
< 0.001) in adherence to TnI testing following the implementation of the guidelines. In patients who had elevated TnI following guideline implementation (
n
= 64), the majority (85%) received appropriate follow-up care in the form of a general medicine or cardiology consult, all received at least one electrocardiogram, and half received at least one advanced cardiac test (e.g., cardiac perfusion scan, or percutaneous intervention).
Conclusions
Our study showed the ability to implement and adhere to the CCS guidelines. Large-scale multicentre evaluations of CCS guideline implementation are needed to gain a better understanding of potential effects on clinically relevant outcomes.