01.12.2018 | Study protocol | Ausgabe 1/2018 Open Access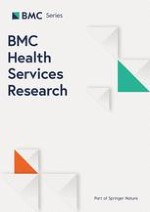 Implementation of the evidence for the improvement of nursing care to the critical patient's family: a Participatory Action Research
Zeitschrift:
Autoren:

Laura de-la-Cueva-Ariza, Pilar Delgado-Hito, Gemma Martínez-Estalella, Gemma Via-Clavero, Teresa Lluch-Canut, Marta Romero-García
Abstract
Background
There are many descriptive studies regarding the needs of the family, as well as those regarding nursing care aimed directly at family members. However, there is no widespread application of such evidence in clinical practice. There has also been no analysis made of the evolution of patterns of knowing during the act of improving clinical practice. Therefore, the purpose of the study is to understand the change process aimed at improving care to critical patient's families, and to explore the evolution of patterns of knowing that nurses use in this process.
Methods
Qualitative study with a Participatory Action Research method, in accordance with the Kemmis and McTaggart model. In this model, nurses can observe their practice, reflect upon it and compare it with scientific evidence, as well as define, deploy and evaluate improvement strategies adapted to the context. Simultaneously, the process of empowerment derived from the Participatory Action Research allows for the identification of patterns of knowing and their development over time. The research will take place in the Intensive Care Units of a tertiary hospital. The participants will be nurses who are part of the regular workforce of these units, with more than five years of experience in critical patients, and who are motivated to consider and critique their practice. Data collection will take place through participant observation, multi-level discussion group meetings and documentary analysis. A content analysis will be carried out, following a process of codification and categorisation, with the help of Nvivo10. The approval date and the beginning of the funding were December 2012 and 2013, respectively.
Discussion
The definition, introduction and evaluation of care strategies for family members will allow for their real and immediate implementation in practice. The study of the patterns of knowing in the Participatory Action Research will be part of the theoretical and practical feedback process of a professional discipline. Also, the identification of the construction and evolution of knowledge will provide decision elements to managers and academics when choosing strategies for increased quality.