01.12.2013 | Debate | Ausgabe 1/2013 Open Access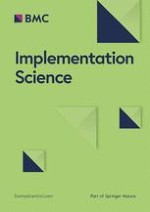 Implementation strategies: recommendations for specifying and reporting
Zeitschrift:
Autoren:

Enola K Proctor, Byron J Powell, J Curtis McMillen
Wichtige Hinweise
Competing interests
The authors declare that they have no competing interests.
Authors' contributions
EKP conceived the idea for this paper and wrote the initial draft. BJP, JCM, and EKP contributed to the conceptualization and writing of subsequent drafts. All authors read and approved the final manuscript.
Abbreviations
CFIR
Consolidated framework for implementation research
EBIs
Evidence-based interventions
NIH
National institutes of health
SQUIRE
Standards for quality improvement reporting excellence.
The need for better specification and reporting of implementation strategies
Implementation strategies have unparalleled importance in implementation science, as they constitute the 'how to' component of changing healthcare practice. Comprising the specific means or methods for adopting and sustaining interventions[
1
], implementation strategies are recognized as necessary for realizing the public health benefits of evidence-based care[
2
]. Accordingly, developing strategies to overcome barriers and increase the pace and effectiveness of implementation is a high research priority[
3
–
7
].
While the evidence for particular implementation strategies is increasing[
8
], limitations in their specification pose serious problems that thwart their testing and hence the development of an evidence-base for their efficiency, cost, and effectiveness. Implementation strategies are often inconsistently labelled and poorly described[
9
], are rarely justified theoretically[
10
,
11
], lack operational definitions or manuals to guide their use, and are part of 'packaged' approaches whose specific elements are poorly understood[
12
]. The literature on implementation has been characterized as a 'Tower of Babel'[
13
], which makes it difficult to search for empirical studies of implementation strategies, and to compare the effects of different implementation strategies through meta-analyses[
9
]. Worse yet, the lack of clarity and depth in the description of implementation strategies within the published literature precludes replication in both research and practice. As with all intervention research, implementation strategies need to be fully and precisely described, in detail sufficient to enable measurement and 'reproducibility'[
14
] of their components.
The purpose of this article is to provide guidance to researchers who are designing, conducting, and reporting studies by proposing specific standards for characterizing implementation strategies in sufficient detail. We begin by providing a brief introduction to implementation strategies, including how the broad term has been defined as well as some examples of implementation strategies. Thereafter we suggest an extension of existing reporting guidelines that provides direction to researchers with regard to naming, clearly describing, and operationalizing implementation strategies.
Definitions and examples of implementation strategies
As evidenced by many of the examples above, interest has been high and progress has been made in the identification, development, and testing of implementation strategies. However, definitions and descriptions of implementation strategies in the literature often lack the clarity required to interpret study results and build upon the knowledge gained through the replication and extension of the research. This signals the need for more guidance that would assist researchers designing, conducting, and reporting implementation studies.
Prerequisites to studying implementation strategies empirically
The study of implementation strategies should be approached in a similar fashion as evidence-based interventions (EBIs), for strategies are in fact a type of intervention. Accordingly, their specification carries the same demands as treatment specification: If they are to be scientifically tested, communicated clearly in the literature, and accurately employed in actual healthcare practice, they must be specified both conceptually and operationally[
37
]. There are a number of prerequisites to the measurement of implementation strategies, many of which are detailed below. They are also listed in Table
1
, along with examples, resources, or tools from the literature (when available) for advancing the state of measurement.
Table 1
Prerequisites to measuring implementation strategies
Prerequisite

Requirements

Resource(s) & example(s)

Name the strategy, preferably using language that is consistent with existing literature.

Define the implementation strategy and any discrete components operationally

a) The actor

Identify who enacts the strategy (

e.g.

, administrators, payers, providers, patients/consumers, advocates, etc.).

Kauth

et al.

[

39

] describe the characteristics, qualifications, and roles of an external facilitator

b) The action

Use active verb statements to specify the specific actions, steps, or processes that need to be enacted.

Rapp

et al.

's[

40

] operational definition of 'leadership'

c) Action target

Specify targets according to conceptual models of implementation

Identify unit of analysis for measuring implementation outcomes

d) Temporality

Specify when the strategy is used

e) Dose

Specify dosage of implementation strategy

Atkins

et al.

[

48

] recorded frequency of support received by opinion leaders

f) Implementation outcome affected

Identify and measure the implementation outcome(s) likely to be affected by each strategy

g) Justification

Provide empirical, theoretical, or pragmatic justification for the choice of implementation strategies.

Theoretical:

Empirical:

Pragmatic:

Wensing

et al.

[

55

] suggest brainstorming as a low-cost, low intensity method of linking strategies to identified barriers
The complexity of implementation strategies poses one of the greatest challenges to their clear description, operational definition, and measurement. Implementation strategies are inherently complex social interventions, as they address multifaceted and complicated processes within interpersonal, organizational, and community contexts[
12
,
56
–
58
]. Implementation strategies must be capable of dealing with the contingencies of various service systems, sectors, of care, and practice settings, as well as the human capital challenge of staff training and support. They must tackle a myriad of barriers to evidence-based care[
59
,
60
] and the various properties of interventions that make them more or less amenable to implementation[
52
]. All these factors significantly contribute to the challenge of measuring, testing, and effectively employing implementation strategies in actual healthcare practice. We attempt to provide this guidance by discussing fundamental principles for naming, defining, and specifying implementation strategies, all of which are prerequisites to studying them empirically.
Table 2
Specification of two implementation strategies
Domain

Strategy: clinical supervision

Strategy: clinician implementation team

Actor(s)

Clinician who is expert in the clinical innovation and recommended by the treatment developer.

A team of clinicians who are implementing the clinical innovation.

Action(s)

Provides clinical supervision via phone to answer questions, review case implementation, make suggestions, and provide encouragement.

Reflect on the implementation effort, share lessons learned, support learning, and propose changes to be implemented in small cycles of change.

Target(s) of the action

Clinicians newly trained in the innovation.

Clinicians newly trained in the innovation.

Knowledge about the innovation, skills to use the innovation, optimism that the innovation will be effective, and improved ability to access details about how to use the innovation without prompts.

Knowledge about how to use the innovation in this context, intentions to use the innovation, social influences.

Temporality

Clinical supervision should begin within one week following the end of didactic training.

First meeting should be within two weeks of initial training.

Dose

Once per week for 15 minutes for 12 weeks, plus follow-up booster sessions at 20 and 36 weeks.

Once monthly for one hour for the first six months.

Implementation outcome(s) affected

Uptake of the innovation, penetration among eligible clients/patients, fidelity to the protocol of the clinical innovation.

Uptake of the innovation, penetration among eligible clients/patients, fidelity to the protocol of the clinical innovation, sustainability of the innovation.

Justification

Research that suggests that post-training coaching is more important than quality or type of training received[

70

].

Cooperative learning theory[

71

].
Existing reporting guidelines and suggested extensions
We suggest that journals that routinely publish implementation studies could advance knowledge about strategies by formally adopting reporting guidelines and providing them to authors and reviewers. Applying such guidelines not only to implementation trials but also to articles that focus on the intervention being tested would pushing detail about implementation processes in treatment effectiveness trials and thus accelerate our understanding of strategies. This point is underscored by the call for 'hybrid trials' that advance knowledge about both the treatment and the implementation[
15
].
Several existing guidelines are relevant. For instance,
Implementation Science
and several other journals have embraced the WIDER Recommendations[
9
,
92
], which call for authors to provide detailed descriptions of interventions (and implementation strategies) in published papers, clarify assumed change processes and design principles, provide access to manuals and protocols that provide information about the clinical interventions or implementation strategies, and give detailed descriptions of active control conditions. The Standards for Quality Improvement Reporting Excellence (SQUIRE) suggest that authors provide, among other things, a description of the intervention (in this case implementation strategy) and its component parts in sufficient detail so that others could reproduce it, an indication of the main factors that contributed to the choice of the intervention, and initial plans for how the intervention was to be implemented, including the specific steps to be taken and by whom (
i.e.
, the intended roles, qualifications, and training of staff)[
93
]. The Equator Network[
94
] is a repository of reporting guidelines (
e.g.
, CONSORT and STROBE) that can provide guidance to specific research designs and methodologies utilized in implementation research. However, there is a need for the development of a suite of reporting guidelines for different types of implementation research[
3
].
We build upon and extend existing guidelines by recommending two standards as outlined above. First, all studies of implementation should name and define the implementation strategies used. Linguistic harmony in implementation science will be advanced if authors label or describe implementation strategies using terms that already appear in a published review article, a strategy compilation or taxonomy, or another primary research article. If and when unique language is introduced to characterize a strategy, the authors should provide a rationale for the new terminology and should clarify how the new strategy label is similar to or conceptually different from labels already in the literature.
Second, all strategies used should be specified or operationalized. In our view, definition and specification should include each of the seven dimensions outlined above. Ideally, descriptions of implementation strategies should be 'packaged' in detailed protocols or manuals describing how a given innovation is to be enacted. These manuals can be considered akin to the kinds of manuals that accompany evidence-based psychotherapies, and could then be published in online supplements and appendices to journal articles.
Adopting these guidelines would address many of the current problems that make it difficult to interpret and use findings from implementation research, such as inconsistent labelling, poor descriptions, and unclear justification for specific implementation strategies[
9
–
11
,
13
]. Specifically, it would facilitate meta-analysis and replication (in both research and practice), and would increase the comparability of implementation strategies by allowing them to be described in similar ways. It would also help to accelerate our understanding of how, why, when, and where they work, and our translation of those findings to real-world improvements in healthcare. We welcome dialogue regarding additional considerations for reporting research on implementation, and acknowledge room for national or international consensus processes that could formalize and extend the guidelines we present here. In the meantime, we hope that these suggestions provide much needed guidance to those endeavouring to advance our understanding of implementation strategies.
Authors' information
EKP directs the Center for Mental Health Services Research at Washington University in St. Louis (NIMH P30 MH085979), the Dissemination and Implementation Research Core (DIRC) of the Washington University Institute of Clinical and Translational Sciences (NCRR UL1RR024992), the Center for Dissemination and Implementation at the Washington University Institute for Public Health, and the Implementation Research Institute (NIMH R25 MH080916).
Acknowledgements
The authors acknowledge their colleagues in the practice community who ask important and provocative questions about how to improve care, the kind of questions that simulated this work. Preparation of this paper was supported in part by National Center for Research Resources through the Dissemination and Implementation Research Core of Washington University in St. Louis' Institute of Clinical and Translational Sciences (NCRR UL1 RR024992); the National Institute of Mental Health through the Center for Mental Health Services Research (NIMH P30 MH068579), the Washington University Center for Diabetes Translation Research (NIDDK/NIH P30 DK092950); the Washington University TREC (Energy Balance and Cancer Across the Lifecourse, NCI/NIH. U54 CA155496); the Implementation Research Institute (NIMH R25 MH080916), and a Ruth L. Kirschstein National Research Service Award (NIMH F31 MH098478); and a Doris Duke Charitable Foundation Fellowship for the Advancement of Child Well-Being. An earlier version of this paper was presented at the Implementation Research Institute on June 20, 2012 at Washington University in St. Louis.
This article is published under license to BioMed Central Ltd. This is an open access article distributed under the terms of the Creative Commons Attribution License (
http://​creativecommons.​org/​licenses/​by/​2.​0
), which permits unrestricted use, distribution, and reproduction in any medium, provided the original work is properly cited.
Competing interests
The authors declare that they have no competing interests.
Authors' contributions
EKP conceived the idea for this paper and wrote the initial draft. BJP, JCM, and EKP contributed to the conceptualization and writing of subsequent drafts. All authors read and approved the final manuscript.