01.12.2017 | Research | Ausgabe 1/2017 Open Access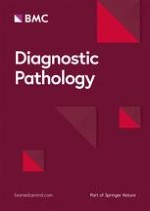 Implication of overexpression of dishevelled-associated activator of morphogenesis 1 (Daam-1) for the pathogenesis of human Idiopathic Pulmonary Arterial Hypertension (IPAH)
Zeitschrift:
Autoren:

Shun Yanai, Megumi Wakayama, Haruo Nakayama, Minoru Shinozaki, Hisayuki Tsukuma, Naobumi Tochigi, Tetsuo Nemoto, Tsutomu Saji, Kazutoshi Shibuya
Abstract
Background
Idiopathic pulmonary arterial hypertension (IPAH) is a rare, fatal disease of unknown pathogenesis. Evidence from our recent study suggests that IPAH pathogenesis is related to upregulation of the Wnt/planar cell polarity (Wnt/PCP) pathway. We used microscopic observation and immunohistochemical techniques to identify expression patterns of cascading proteins—namely Wnt-11, dishevelled-2 (Dvl-2), and dishevelled-associated activator of morphogenesis 1 (Daam-1)—in pulmonary arteries.
Methods
We analyzed sections of formalin-fixed and paraffin-embedded autopsied lung tissues obtained from 9 IPAH cases, 7 associated pulmonary arterial hypertension cases, and 16 age-matched controls without pulmonary arterial abnormalities. Results of microscopic observation were analyzed in relation to the cellular components and size of pulmonary arteries.
Results
Varying rates of positive reactivity to Dvl-2 and Daam-1 were confirmed in all cellular components of pulmonary arteries, namely, endothelial cells, myofibroblasts, and medial smooth muscle cells. In contrast, none of these components was reactive to Wnt-11. No specific expression patterns were observed for endothelial cells or myofibroblasts under any experimental conditions. However, marked expression of Dvl-2 and Daam-1 was confirmed in smooth muscle cells. In addition, Dvl-2 was depleted while Daam-1 expression was elevated in IPAH, in contrast with specimens from associated pulmonary arterial hypertension cases and controls.
Conclusions
High Daam-1 expression may upregulate the Wnt/PCP pathway and cause IPAH.