01.08.2014 | Original Article | Ausgabe 4/2014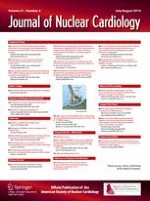 Importance of correct patient positioning in myocardial perfusion SPECT when using a CZT camera
Zeitschrift:
Autoren:

PhD Cecilia Hindorf, PhD Jenny Oddstig, MD Fredrik Hedeer, MD, PhD Magnus J. Hansson, MD, PhD Jonas Jögi, MD, PhD Henrik Engblom
Abstract
Introduction
Myocardial perfusion single photon emission computed tomography (MPS) is one of the most widely used diagnostic methods in patients with suspected ischemic heart disease (IHD). Recently, a novel technique based on cadmium-zinc-telluride (CZT) detectors, pinhole collimators, and a stationary gantry was introduced for MPS. The aim of this work was to investigate how patient positioning affects the reconstructed MPS images using this novel technique.
Materials and Methods
Eighteen patients referred for a clinical MPS due to suspected IHD were included in the study. All patients underwent MPS imaging on a GE Discovery NM 530c CZT camera. After image acquisition with the heart positioned in the center of the quality field of view (QFOV), the patients were re-imaged in different positions 5-20 mm off-center. The heart was still positioned within the limits of the QFOV during the off-center scans. The summed stress score and/or the summed rest score (SSS and/or SRS) for the acquisition performed in the center was compared to the same parameter for the acquisitions performed off-center.
Results
There was a statistically significant increase in SSS and/or SRS when imaging was performed with the heart 5-20 mm outside the center of the QFOV compared to optimal positioning (7.7 ± 1.3 vs 6.6 ± 1.3,
P
= .006). The SSS and/or SRS increased with ≥2 U in 35% (14/40) of the off-center examinations.
Conclusion
It is important to carefully position the patient's heart within the center of the QFOV when performing MPS with the Discovery NM 530c CZT camera to avoid positioning-related image artifacts that could affect the diagnostic accuracy.