01.09.2016 | Regular Article | Ausgabe 5/2016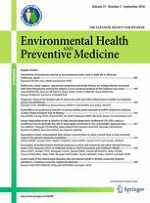 Importance of detoxifying enzymes in differentiating fibrotic development between SHRSP5/Dmcr and SHRSP rats
Zeitschrift:
Autoren:

Hisao Naito, Xiaofang Jia, Husna Yetti, Yukie Yanagiba, Hazuki Tamada, Kazuya Kitamori, Yumi Hayashi, Dong Wang, Masashi Kato, Akira Ishii, Tamie Nakajima
Wichtige Hinweise
Electronic supplementary material
The online version of this article (doi:
10.​1007/​s12199-016-0539-x
) contains supplementary material, which is available to authorized users.
Abstract
Objectives
High-fat and -cholesterol diet (HFC) induced fibrotic steatohepatitis in stroke-prone spontaneously hypertensive rat (SHRSP) 5/Dmcr, the fifth substrain from SHRSP, by dysregulating bile acid (BA) kinetics. This study aimed to clarify the histopathological and BA kinetic differences in HFC-induced fibrosis between SHRSP5/Dmcr and SHRSP.
Methods
Ten-week-old male SHRSP5/Dmcr and SHRSP were randomly allocated to groups and fed with either control diet or HFC for 2 and 8 weeks. The liver histopathology, biochemical features, and molecular signaling involved in BA kinetics were measured.
Results
HFC caused more severe hepatocyte ballooning, macrovesicular steatosis and fibrosis in SHRSP5/Dmcr than in SHRSP. It was noted that fibrosis was disproportionately formed in retroperitoneal side of both strains. As for BA kinetics, HFC greatly increased the level of Cyp7a1 and Cyp7b1 to the same degree in both strains at 8 weeks, while multidrug resistance-associated protein 3 was greater in SHRSP5/Dmcr than SHRSP. The diet decreased the level of bile salt export pump by the same degree in both strains, while constitutive androstane receptor, pregnane X receptor, and UDP-glucuronosyltransferase activity more prominent in SHRSP5/Dmcr than SHRSP at 8 weeks. In the fibrosis-related genes, only expression of collagen, type I, alpha 1 mRNA was greater in SHRSP5/Dmcr than SHRSP.
Conclusions
The greater progression of fibrosis in SHRSP5/Dmcr induced by HFC may be due to greater suppression of UDP-glucuronosyltransferase activity detoxifying toxicants, such as hydrophobic BAs.