01.12.2017 | Research article | Ausgabe 1/2017 Open Access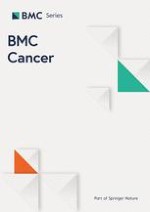 Improved anticancer drug response prediction in cell lines using matrix factorization with similarity regularization
Zeitschrift:
Autoren:

Lin Wang, Xiaozhong Li, Louxin Zhang, Qiang Gao
Wichtige Hinweise
Electronic supplementary material
The online version of this article (doi:
10.​1186/​s12885-017-3500-5
) contains supplementary material, which is available to authorized users.
Abbreviations
CCLE
Cancer Cell Line Encyclopedia
GDSC
Genomics of Drug Sensitivity in Cancer
KBMF
Kernelized Bayesian matrix factorization
PCC
Pearson correlation coefficient
PCC_S/R
PCC for drug responses from sensitive and resistant cell lines
RMSE_S/R
RMSE for drug responses from sensitive and resistant cell lines
SRMF
Similarity-regularized matrix factorization
Background
Patients suffering from the same cancer may differ in their responses to a specific medical treatment. Precision cancer medicines aim to decipher the cause of a given patient's cancer at the molecular level and then tailor treatment to address that patient's cancer progression [
1
]. Identification of predictive biomarker for drug sensitivity in individuals is the key that will promote precision cancer medicine [
2
]. Human cancer cell lines, compared to human or animal model, have been popular to study the cancer biology and drug discovery through facile experimental manipulation. Several large-scale high-throughput screenings have catalogued genomic and pharmacological data for hundreds of human cancer cell lines, respectively [
3
–
6
]. Development of computational methods that link genomic profiles of cancer cell lines to drug responses can facilitate the development of precision cancer medicines, for which the identified genomic biomarkers can be used to predict anticancer drug response [
7
,
8
].
Machine learning algorithms such as elastic net regularization and random forests were used to search for genomic biomarkers of drug sensitivity in cancer cell lines for individual drugs [
3
–
5
,
9
,
10
]. Recently, Seashore-Ludlow et al. developed a cluster analysis method integrating information from multiple drugs and multiple cancer cell lines to identify genomic biomarkers [
6
]. Geeleher et al. improved genomic biomarker discovery by accounting for variability in general levels of drug sensitivity in pre-clinical models [
11
]. In contrast to genomic biomarker identification, some research works focused on drug response prediction. Before-treatment baseline gene expression levels and in vitro drug sensitivity in cell lines were used to predict anticancer drug responses [
12
,
13
]. Daemen et al. used least square-support vector machines and random forests algorithms integrating molecular features at various levels of the genome to predict drug responses from breast cancer cell line panel [
14
]. Menden et al. predicted drug responses using neural network where each drug-cell line pair integrated genomic features of cell lines with chemical properties of drugs as predictors [
15
]. Ammad-ud-din et al. applied kernelized Bayesian matrix factorization (KBMF) method to predict drug responses in GDSC dataset [
16
]. The method utilized genomic and chemical properties in addition to drug target information. Liu et al. used drug similarity network and cell similarity network to predict drug response, respectively, meaning that predictions were done twice separately. Then the final prediction is obtained as a weighted average of the two predictions based on dual-layer network (DLN) [
17
]. Cortés-Ciriano et al. proposed the modelling of chemical and cell line information in a machine learning model such as random forests (RF) or support vector regression to predict the drug sensitivity of numerous compounds screened against 59 cancer cell lines from the NCI60 panel [
18
]. Although various methods have been developed to computationally predict drug responses of cell lines, there are many challenges in obtaining accurate prediction.
Based on the fact that similar cell lines and similar drugs exhibit similar drug responses [
17
], here we propose a similarity-regularized matrix factorization (SRMF) method for drug response prediction which incorporates similarities of drugs and of cell lines simultaneously. To demonstrate its effectiveness, we applied SRMF to a set of simulated data and compared it with two typical similarity-based methods: KBMF and DLN. The evaluation metrics include Pearson correlation coefficient (PCC) and root mean square error (RMSE). The results showed that SRMF performed significantly better than KBMF and DLN in terms of drug-averaged PCC and RMSE. Moreover, we applied SRMF to GDSC and CCLE drug response datasets using ten-fold cross validation which showed that the performance of SRMF significantly exceeded other existing methods, such as KBMF, DLN and RF. We have also applied SRMF to infer the missing drug response values in the GDSC dataset. Even though the SRMF model does not specifically model mutation information, it correctly predicted the associations between EGFR and ERBB2 mutations and sensitivity to lapatinib that targets the product of these genes. Similar fact was observed with predicted response of CDKN2A-mutated cell lines to PD-0332991. Furthermore, by combining newly predicted drug responses with existing drug responses, SRMF can identify novel drug-cancer gene associations that do not exist in the available data. For example, MET amplification and TSC1 mutation are significantly associated with c-Met inhibitor PHA-665752 and mTOR inhibitor rapamycin, respectively. Finally, the newly predicted drug responses can guide drug repositioning. The mTOR inhibitor rapamycin is sensitive to non-small cell lung cancer (NSCLC) based on newly predicted drug responses versus available observations. Besides, expression of AK1RC3 and HINT1 were identified as biomarkers of cell line sensitivity to rapamycin.
Methods
Results
Discussion
SRMF currently incorporated the gene expression profile based cell line similarity. Notably, SRMF can be extended to incorporate multiple types of similarity measures for cell lines through weighted low-rank approximation [
20
] and multiple kernel learning techniques [
33
]. Consequently, as to the two datasets used in the current study, some other genomic features of cell lines such as copy number variation, somatic mutation and pathways could potentially improve the performance of SRMF. Moreover, there are already some large panels of cancer cell lines for which multiple layer omics data such as microRNA expression, DNA methylation and reverse-phase protein array, and their related drug responses have been experimentally determined [
5
,
18
,
21
]. With increasing data on drug responses becoming available over time, and extended matrix factorization models to utilize the above heterogeneous data, we hope this matrix factorization based approach will have much better predictive power. Besides, our approach can be applied to other research fields such as modelling the causal regulatory network by integrating chromatin accessibility and transcriptome data in matched samples, which are deposited in Encyclopedia of DNA Elements (ENCODE) and Roadmap Epigenomic projects [
34
].
Conclusions
In this study, we developed a similarity-regularized matrix factorization method SRMF to predict the response of cancer cell lines to drug treatments for IC50 values in the GDSC and activity areas in the CCLE study. The performance of SRMF was first evaluated through simulation studies and further validated by the 10-fold cross validation on GDSC and CCLE datasets. Clearly, SRMF shows better overall prediction performance than other methods in the comparison study. Finally, in comparison with existing data, the newly predicted drug responses of GDSC dataset can find consistent and novel drug-cancer gene associations and aid in drug repositioning.
Acknowledgements
Not applicable.
Funding
This work was supported by National Natural Science Foundation of China (31,370,075 and 61,603,273), National Basic Research Program of China(973 Program) (2013CB734004), Singapore National Research Foundation (2016NRF-NSFC001–026), Tianjin Municipal Natural Science Foundation (16JCYBJC18500), Tianjin University of Science and Technology (2014CXLG28) and Key Lab of Food Safety Intelligent Monitoring Technology, China Light Industry (KFKT2017A02). The funding agency has no role in the design of the study and collection, analysis, interpretation of data and writing of this manuscript.
Availability of data and materials
Ethics approval and consent to participate
Not applicable.
Consent for publication
Not applicable.
Competing interests
The authors declare that they have no competing interests.
Publisher's Note
Springer Nature remains neutral with regard to jurisdictional claims in published maps and institutional affiliations.
Open Access
This article is distributed under the terms of the Creative Commons Attribution 4.0 International License (
http://​creativecommons.​org/​licenses/​by/​4.​0/​
), which permits unrestricted use, distribution, and reproduction in any medium, provided you give appropriate credit to the original author(s) and the source, provide a link to the Creative Commons license, and indicate if changes were made. The Creative Commons Public Domain Dedication waiver (
http://​creativecommons.​org/​publicdomain/​zero/​1.​0/​
) applies to the data made available in this article, unless otherwise stated.