05.07.2018 | Breast Oncology | Ausgabe 10/2018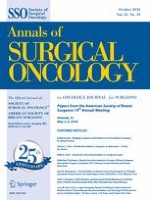 Improved False-Negative Rates with Intraoperative Identification of Clipped Nodes in Patients Undergoing Sentinel Lymph Node Biopsy After Neoadjuvant Chemotherapy
Zeitschrift:
Autoren:

MD, PhD Neslihan Cabıoğlu, MD Hasan Karanlık, MD Dilek Kangal, MD Enver Özkurt, MD Gizem Öner, Fatma Sezen, MD Ravza Yılmaz, MD Mustafa Tükenmez, MD Semen Önder, MD Abdullah İğci, MD Vahit Özmen, MD Ahmet Dinççağ, MD Gülgün Engin, MD Mahmut Müslümanoğlu
Abstract
Background
Identification and resection of a clipped node was shown to decrease the false-negative rate (FNR) of sentinel lymph node biopsy (SLNB) after neoadjuvant chemotherapy (NAC) for patients presenting with initially node-positive breast cancer.
Methods
Between March 2014 and March 2016, a prospective trial analyzed 98 patients with axilla-positive locally advanced breast cancer (T1-4, N1-3) to assess the feasibility and efficacy of placing clips into most suspicious biopsy-proven node. The study considered blue, radioisotope active, and suspiciously palpable nodes as sentinel lymph nodes (SLNs).
Results
The SLN identification rate was 87.8%. The median age of the patients with an SLNB (
n 
= 86) was 44 years (range 28–66 years). Of these patients, 77 (88.4%) had cT1-3 disease, and 10 (11.6%) had cT4 disease. The majority of the patients (
n 
= 66, 76.7%) had cN1, whereas 21 patients (23.3%) had cN2 and cN3. A combined method was used for 37 patients (43%), whereas blue dye alone was used for the remaining patients (57%). The clipped node was the SLN in 70 patients (81.4%). For the patients with cN1 before NAC, the FNR was found to be 4.2% (1/24) when the clipped node was identified as an SLN. However, the FNR was estimated to be as high as 16.7% (1/6) for the patients with cN1 before NAC when the clipped node was found to be a non-SLN.
Conclusions
The study results also suggest that axillary dissection could be omitted for patients presenting initially with N1 disease and with a negative clipped node as the SLN after NAC due to the low FNR.