05.05.2016 | PRECLINICAL STUDIES | Ausgabe 4/2016 Open Access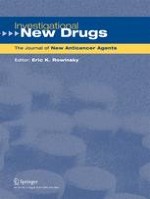 Improved in vivo antitumor effect of a daunorubicin - GnRH-III bioconjugate modified by apoptosis inducing agent butyric acid on colorectal carcinoma bearing mice
Zeitschrift:
Autoren:

Bence Kapuvári, Rózsa Hegedüs, Ákos Schulcz, Marilena Manea, József Tóvári, Alexandra Gacs, Borbála Vincze, Gábor Mező
Wichtige Hinweise
Ákos Schulcz has passed away.
Summary
Compared to classical chemotherapy, peptide-based drug targeting is a promising therapeutic approach for cancer, which can provide increased selectivity and decreased side effects to anticancer drugs. Among various homing devices, gonadotropin-releasing hormone-III (GnRH-III) peptide represents a suitable targeting moiety, in particular in the treatment of hormone independent tumors that highly express GnRH receptors (e.g. colon carcinoma). We have previously shown that GnRH-III[4Lys(Ac),8Lys(Dau = Aoa)] bioconjugate, in which daunorubicin was attached via oxime linkage to the 8Lys of a GnRH-III derivative, exerted significant in vivo antitumor effect on subcutaneously developed HT-29 colon tumor. In contrast, results of the study reported here indicated that this compound was not active on an orthotopically developed tumor. However, if Lys in position 4 was acylated with butyric acid instead of acetic acid, the resulting bioconjugate GnRH-III[4Lys(Bu),8Lys(Dau = Aoa)] had significant tumor growth inhibitory effect. Furthermore, it prevented tumor neovascularization, without detectable side effects. Nevertheless, the development of metastases could not be inhibited by the bioconjugate; therefore, its application in combination with a metastasis preventive agent might be necessary in order to achieve complete tumor remission. In spite of this result, the treatment with GnRH-III[4Lys(Bu),8Lys(Dau = Aoa)] bioconjugate proved to have significant benefits over the administration of free daunorubicin, which was used at the maximum tolerated dose.