01.12.2014 | Original Investigation | Ausgabe 6/2014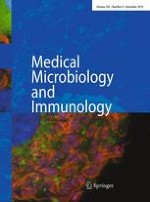 Improved virological and immunological efficacy of resistance-guided switch in antiretroviral therapy: a Frankfurt HIV cohort analysis
Zeitschrift:
Autoren:

T. Wolf, B. Fuß, P. Khaykin, A. Berger, G. Knecht, P. Gute, H. R. Brodt, S. Goepel, M. Bickel, M. Stuermer, C. Stephan
Wichtige Hinweise
Contents of this work had been presented in part at the 14th Conference of the European AIDS Clinical Society (EACS), in Brussels (Belgium), October 16–19, 2013. Abstract P 9.4.
M. Stürmer and C. Stephan have contributed equally to this work.
For Frankfurt HIV Cohort Study.
Abstract
To evaluate the treatment outcome of antiretroviral therapy, depending on the use and utility of a concept of resistance-guided switch, patients from the Frankfurt HIV cohort have been followed for 24 weeks. If available, prior resistance data have been evaluated and patients were grouped into their expected viral response. The data of 354 patients were thus analysed, taking into account the genotypic sensitivity score of the administered medication (> or ≤2). When looking at the proportion of patients who achieved a viral load of <50/ml, the response rates differed significantly better for patients with a favourable resistance scoring as compared to an unfavourable one (71.9 % as compared to 56.0 %,
p
= 0.008). Interestingly, patients with a favourable resistance score also showed a better immunological response, as measured by median CD4 cell count of 391/µl [interquartal range (IQR) 250–530/µl] against 287/µl (IQR 174–449/µl) and a larger total increase of 141/µl against 38/µl. A significant virological and immunological benefit could be demonstrated for patients of a cohort with resistance-guided antiretroviral therapy adjustments.