09.11.2017 | Assisted Reproduction Technologies | Ausgabe 2/2018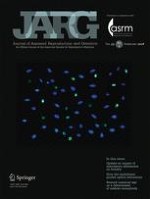 Improvement of pregnancy outcome by extending embryo culture in IVF-ET during clinical application
Zeitschrift:
Autoren:

Xiaopeng Zhao, Binbin Ma, Shaokang Mo, Lu Ma, Fei Chang, Liyuan Zhang, Fang Xu, Ling Wang
Wichtige Hinweise
Electronic supplementary material
Abstract
Purpose
The purpose of this study is to investigate the application value of the extended embryo culture for 7–8 h in day 3 morning during IVF-ET process.
Methods
Embryos were retrospectively assessed during 08:00–09:00 on the morning of day 3 in the control group, and were assessed once again at 16:00 in the afternoon in the extended culture (EC) group. The embryos with good developmental potential were preferentially selected to transfer. The cumulative pregnancy outcomes were analyzed in one oocyte retrieval cycle.
Results
Similar proportions were found in the rates of cumulative clinical pregnancy, cumulative live birth, and the perinatal/neonatal outcomes per oocyte retrieval cycle (
P
> 0.05). But higher total clinical pregnancy rate, higher total implantation rate, and lower total abortion rate were obtained in the EC group (
P
< 0.05). After EC, 53.58% of the embryos were able to continue to develop. The transferred embryos were mainly composed of ≥ 8-cell embryos (75.90%) in the EC group and ≤ 8-cell embryos (82.92%) in the control group. Interestingly, the implantation rates were increasingly improved with the increasing blastomere number up to 56.31% at the morula stage in the EC group, while they were limited to 32.33% at 8-cell stage in the control group.
Conclusions
The extended culture of day 3 embryos for 7–8 h not only reduced the risk of IVF-ET treatment compared to blastocyst culture through another 2–3 days, but also improved the clinical outcomes and the efficiency of every transferred cycle and every transferred embryo.