02.07.2020 | Original Contributions | Ausgabe 11/2020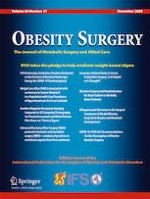 Improving Access to Bariatric Surgery for Rural and Remote Patients: Experiences from a State-Wide Bariatric Telehealth Service in Australia
Zeitschrift:
Autoren:

Andrew Phillip Maurice, Jaisil Eldo Joseph Punnasseril, Sarah Emily King, Benjamin Rees Dodd
Wichtige Hinweise
Publisher's Note
Springer Nature remains neutral with regard to jurisdictional claims in published maps and institutional affiliations.
Abstract
Background
The state of Queensland, Australia, is large (1.85 million km2). The provision of bariatric care across the state is difficult as most major hospitals are concentrated in the capital city of Brisbane. We implemented a state-wide telehealth service to improve access for rural patients in a public bariatric service. We report our early experiences with this service.
Methods
We reviewed all patients seen in the Bariatric Telehealth Clinic from 2017 to 2019. Patients underwent consultation through video-link software at their local hospital with the multidisciplinary team in Brisbane (surgeon, dietician and clinical nurse). Distances from Brisbane and number of visits were calculated. Telehealth patients were contacted by phone to complete a survey regarding their experiences. This was a 17-question Likert-style survey with scores from 1 (strongly disagree) to 5 (strongly agree).
Results
A total of 85 new patients underwent their initial consultation via telehealth. Each patient had a variable number of in-person as well as telehealth consultations both before and after surgery. Mean distance from telehealth consultation site to Brisbane was 614 km (range 149–2472 km). In total, 41 (48%) completed the survey. With regard to telehealth saving time and money, improving access to bariatric care, and desire to use telehealth again, the mean score was 4 out of 5 or higher for all questions (i.e., agree or strongly agree). There was no identifiable post-operative complication that was caused or exacerbated by telehealth.
Conclusion
Bariatric surgical telehealth appointments are feasible and preferred by most patients residing in rural and remote locations. Each consultation avoids significant travel time and cost for the patient and health service, with no obvious adverse outcomes. Telehealth improves equity and access to specialist services for rural and remote patients.