01.12.2019 | Research article | Ausgabe 1/2019 Open Access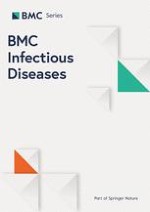 Improving natural ventilation in hospital waiting and consulting rooms to reduce nosocomial tuberculosis transmission risk in a low resource setting
Zeitschrift:
Autoren:

A. Roderick Escombe, Eduardo Ticona, Víctor Chávez-Pérez, Manuel Espinoza, David A. J. Moore
Abbreviations
HIV
Human Immunodeficiency Virus
WHO
World Health Organisation
XDR-TB
Extensively drug-resistant tuberculosis
Introduction
TB transmission in healthcare facilities is an important public health problem. Occupational TB has been widely documented in the developed world, and is increasingly recognised in low and middle income countries [
1
,
2
]. In addition to staff, patients and visitors to healthcare facilities are at risk of infection. TB transmission in other institutional settings such as prisons, homeless shelters and schools is also important [
3
–
5
].
The dual epidemics of HIV infection and drug-resistant TB conspire to compound the problem of institutional TB transmission. HIV patients latently-infected with TB are more likely to develop active TB disease [
6
], and thus cause onward transmission via the airborne route. Indeed in high TB burden countries, a high proportion of HIV cases themselves present with active TB, forming a significant pool of TB infection within waiting areas of HIV clinics. Furthermore, HIV infection increases hospitalisation and attendance at healthcare facilities. The roll out of HIV care may inadvertently promote the risk of airborne TB transmission through the congregation of highly susceptible patients with a high incidence of TB in settings which are often overcrowded, such as anti-retroviral treatment centres [
7
]. TB drug resistance may increase overall TB transmission in a number of ways, including diagnostic delay and prolonged periods of treatment. There may be frequent attendances at healthcare facilities whilst drug-resistant TB patients are treated unsuccessfully with first-line anti-TB drugs prior to correct diagnosis. Such inadequately treated patients may be highly infectious [
8
]. Nosocomial transmission has been strongly implicated in the emergence of extensively drug resistant TB in South Africa in health care settings where airborne infection control was poor or absent [
9
,
10
].
Airborne TB transmission depends on a number of factors, including source strength (for example cough frequency of an undiagnosed TB patient) and the number of susceptible persons exposed [
11
]. A major determinant of transmission is room ventilation with fresh air, which serves to dilute the concentration of airborne infectious particles. Room ventilation may be provided by mechanical ventilation systems that may also deliver negative pressure. Such systems require specific expertise to design and are expensive to install and maintain, and are inappropriate for many low resource settings where the burden of TB is highest. Natural ventilation by simply opening the windows may provide higher rates of air exchange for little or no cost, but is climate dependant [
12
]. TB infection control guidelines recommend 6–12 air-changes/hour (ACH) room ventilation for high risk settings [
13
,
14
]. Even if such environmental control measures are implemented, they are often limited to areas considered high risk, such as TB wards. However it is untreated TB patients prior to diagnosis, or inadequately treated drug-resistant TB patients, who are likely to be the most infectious [
15
]. These patients are commonly found in areas such as emergency rooms, waiting rooms, out-patient clinics, and X-ray departments. These areas are often overcrowded, especially in low resource settings, and are often not the focus of TB infection control efforts.
We studied the effect of simple architectural modifications to existing infrastructure to improve natural ventilation in out-patient consulting rooms and waiting rooms in hospitals in a high TB burden setting, and used mathematical modelling to estimate reductions in the risk of TB transmission to patients and healthcare workers.
Methods
Results
Room ventilation
38 CO
2
tracer gas experiments were performed in 6 study rooms. Ventilation increased in each room as a result of the intervention in all experiments (
p
 < 0.0001; Wilcoxon signed-ranks test; Fig.
1
). Median ventilation was 5.3 ACH pre-intervention and 16 ACH post-intervention. In the general medical out-patients waiting room with the new skylight, ventilation increased from mean 5.5 to 14.5 ACH. In the adjacent medical consulting room, ventilation increased from mean 4.6 to 17.4 ACH. In the X-ray department waiting room ventilation increased from mean 10.5 to 15.6 ACH. In the respiratory medicine out-patients & TB clinic waiting room ventilation increased from mean 8.0 to 15.3 ACH. In the respiratory medicine out-patients consulting room ventilation increased from mean 2.7 to 11.9 ACH. In the general medical and respiratory medicine out-patients waiting room mean ventilation was 8.1 ACH, and in the new purpose built respiratory out-patients waiting room, mean ventilation was 61.6.
Risk of TB infection
The following data were collected by direct observation and review of clinic records and were entered into the airborne infection model for number of susceptibles (S), and number of infectors (I). In the general medical out-patients waiting room (Room 1) there were on average 385 people (patients and those accompanying them) at any one time, and 1 untreated smear positive TB case was attended to daily. Similarly, at any one time there were 65 people in the X-ray waiting corridor (Room 3) and 0.5 TB cases attended daily; 14 people in the respiratory/TB clinic waiting area (Room 4) and 10 TB cases attended daily; 120 people in the shared out-patients waiting room (Room 6), with 0.3 infectious TB cases attended daily; and 14 people in the newly built waiting room. Waiting time was considered to be 3 h after conferring with staff, hence t = 3 h was used arbitrarily in the model. In the two consulting rooms (Rooms 2 and 5), 2 healthcare workers (a consulting doctor and one nurse) were considered to be at risk for a total of 6 h/day (representing a morning and afternoon clinic), exposed to one patient at a time.
The calculated risk of TB infection for patients waiting 3 h in waiting rooms, or for healthcare workers working 6 h in the consulting rooms is shown in Fig.
2
, for room ventilation as measured pre- and post-intervention. The calculated risk of TB transmission decreased in each room as a result of the intervention increasing room ventilation in all experiments (
p
 < 0.0001; Wilcoxon signed-ranks test). The median reduction in risk of TB infection was 72% (inter-quartile range 51–82%).
×
Discussion
This study has demonstrated that simple, low cost modifications to existing infrastructure can greatly improve natural ventilation in healthcare settings, in this case in hospital consulting rooms and waiting rooms. Such rooms are likely to contain infectious TB patients and the increased ventilation considerably reduced TB transmission risk to staff and other patients calculated using a standard airborne infection model. These interventions to improve natural ventilation within existing infrastructure were achieved at minimal or modest cost. These findings demonstrate the potential for simple implementation of effective environmental control measures for preventing TB transmission in healthcare settings, which is of particular importance in the context of the roll out of HIV care.
Conclusions
This study has demonstrated that high rates of natural ventilation may be achieved in healthcare facilities through simple modifications to existing infrastructure, greatly reducing the risk of TB infection for little or no cost. Where climate permits, such architectural modifications have great potential for reducing TB transmission in healthcare facilities and other institutional settings, and are ideally suited to low resource settings. In the current era of dual HIV and TB epidemics, and emerging MDR and XDR-TB, these simple interventions may help to prevent healthcare settings from propagating the very diseases they are attempting to treat.
Acknowledgements
The authors would like to thank the staff of the respiratory out-patients and TB departments of Hospital Nacional Dos de Mayo and Hospital Nacional Sergio E. Bernales in Lima, Peru, for facilitating the field measurements. We would like to thank Simon Gazzard for creating the architectural drawings.
Funding
AR Escombe and DAJ Moore were supported by grants from the Wellcome Trust, numbers 070005/Z/02/Z and 064672, respectively.
Availability of data and materials
The datasets used and analysed during the current study are available from the corresponding author on reasonable request.
Ethics approval and consent to participate
Ethical approval was waived because the only human data related to average numbers of people in waiting rooms, or TB cases seen per day.
Consent for publication
Not applicable
Competing interests
The authors declare that they have no competing interests.
Publisher's Note
Springer Nature remains neutral with regard to jurisdictional claims in published maps and institutional affiliations.
Open Access
This article is distributed under the terms of the Creative Commons Attribution 4.0 International License (
http://​creativecommons.​org/​licenses/​by/​4.​0/​
), which permits unrestricted use, distribution, and reproduction in any medium, provided you give appropriate credit to the original author(s) and the source, provide a link to the Creative Commons license, and indicate if changes were made. The Creative Commons Public Domain Dedication waiver (
http://​creativecommons.​org/​publicdomain/​zero/​1.​0/​
) applies to the data made available in this article, unless otherwise stated.