01.12.2018 | Commentary | Ausgabe 1/2018 Open Access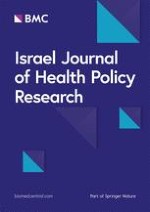 Improving research and policy interactions requires a better understanding of what works in different contexts
Zeitschrift:
Autoren:

Joshua J. Robinson, Nicholas Mays, Alec Fraser
Background
The 'evidence revolution' and the call for more interaction between academics and government policy-makers
While this way of considering the role of academics in government is useful, Glied and colleagues' arguments on the interaction between research and policy could be strengthened with further considerations. First, are there characteristics of academics inclined to enter into health policy roles in government that are distinctive compared to other social policy sectors (e.g., nature or type of disciplinary training) and do any differences have an influence on the way in which they contribute to policy-making? Next, much of the work to date on research and policy interactions provides solutions that assume government is monolithic, offering up models of collaboration intended to fit all contexts. Is EIP differentially operationalized across government departments and policy sectors (i.e. to what extent are Glied et al.'s experiences specific to health policy-making)? Finally, in what ways would a contextualized learning of relationships between research evidence generation, research use and its impact on practice inform their analyses?
Different academic disciplines in government
As evidenced from Glied and colleagues' experience [
18
], and those of two of the current authors (Mays and Robinson) who have served in various governmental roles, academics working in health policy in government often, but not always, appear to come from a small range of disciplines (e.g., typically economics and health sciences). In our experience, it is less often the case that academics from the other social sciences such as sociologists, anthropologists, or political scientists, assume government roles as described by Glied and colleagues [
18
], and even less likely for those from the humanities (e.g. history). While the lack of other social scientists in government is not necessarily problematic, it may speak to a broader level of how certain types of research are more readily accepted within policymaking environments and may be partly a reflection of the nature of work called for to inform health policy issues. It may be representative of the status of certain kinds of particularly quantitative, positivist pursuit of knowledge and assumptions about certain disciplines' truth claims as qualitative research may, unfairly, be considered less objective that quantitative pursuits [
6
,
20
]. It may also be because academics from certain disciplines find direct counter-parts in the civil service with whom they can work. A large proportion of the analysts within central government in England, for instance, are economists and, accordingly, in our experience, find it relatively easier to work with academic economists than others.
There may be a number of reasons why government would want academics to serve in formal roles, many of which have been previously pointed out by others and echoed by Glied and colleagues [
9
,
10
,
21
]. Academics in government may be positioned to deploy their expertise and skills in manners more conducive for research-based knowledge to inform policy processes than if advising from outside of government, but we know little about how academics in government shape policy practices. We know even less about similarities or differences between health policy as compared to, for example, education or environmental policy. A critical questioning of why certain disciplines and forms of knowledge are more readily accepted across areas in government, and reasons for differences, may shed light on these relationships.
Academic-policy-maker interactions in different policy sectors
While research and policy interactions have been extensively studied in health policy, there is a growing literature on research and policy interactions across policy sectors [
9
,
17
,
22
,
23
]. Too often in research and policy studies government is treated as monolithic, assuming what happens in one policy sector is broadly applicable to others. Relatively few studies examine, for instance, academic and civil servant collaborations as a unit of analysis to understand how these relationships are enacted and negotiated in practice [
14
,
19
,
24
,
25
], with a few notable exceptions [
26
,
27
]. We see fewer studies attempting to dissect why similarities and differences in research and policy, and that of academic and civil servant collaborations, exist across policy sectors (e.g., health, education). Empirical work that draws on more diverse theoretical approaches including, but not limited to, the use of policy theory, such as the various strands of institutionalism, and organizational sociology, is needed on the interaction between research and policy to better understand how governments interact with, for example, academics, and what works in context. An excellent example can be seen in Ferlie et al.'s narrative synthesis of the diversity of approaches to knowledge mobilization in the healthcare management literature. The authors highlight an epistemological turn in the evolution in the healthcare knowledge mobilization literature from 2000 signaling a challenge to hierarchical models of evidence based on medical authority in favor of qualitative and narrative forms and a shift from linear conceptualizations of knowledge transfer to relational and organic (trust based) models. A further helpful source – this time based more firmly on the interactions between policy makers and academics is Cairney and Oliver's work related to the need for better incorporation of policy theories and innovative approaches to both improving and understanding research and policy interactions [
18
,
19
]. These authors highlight the importance of persuasion, emotion, and beliefs as tools for academic researchers to make their work more accessible to policy makers.
Problematizing the relationship between research evidence generation, use and impact on practice
Frequently, proponents of improving the relationship between research and policy, including many knowledge mobilization, translation and exchange proponents, have approached the interaction from a narrowly conceived 'use' perspective [
28
]. However, viewing the function of research for policy purely through such instrumental terms (i.e., direct use in policy) has begun to give way to a discourse that recognizes that research has other functions such as substantiating policy agendas or shaping policy through the broader ideas derived from research findings [
28
,
29
]. This represents an important shift in conceiving the interaction between research and policy and opens opportunities to investigate this relationship from new perspectives. If research evidence is only one policy puzzle piece, how should that modify our understanding of why government would adopt an EIP discourse and consequentially enact EIP practices such as having academics serve in formal governmental roles?
A deeper understanding of the social function of research and its relationship with policy requires moving beyond the paradigmatic dominance in the knowledge mobilization, translation and exchange literature of an instrumental theory of knowledge use and its concomitant recommendations for collaborative working relationships premised on improving relationships to increase use such as co-production and knowledge brokering. This is not to discredit or minimize the importance of such models for developing closer working relationships between research and policy. Rather, it is to recognize that the pursuit of generalizable models of collaboration may have come at the price of advancing contextualized knowledge of other functions of research in and for policy. Too few studies have attempted to develop alternative frameworks of research and policy interactions that appreciate that research evidence serves multiple functions for policy in addition to direct use of findings in policy [
30
]. Consequently, we know more about what works in terms of collaborative models to improve the use of research in policy as opposed to the wider drivers of EIP practices – where, when, why and how organizations such as governmental departments adopt, enact and seek to employ EIP practices [
19
].
Conclusion
Research and policy interactions are an area deserving of more comparative empirical analysis if we are to ensure research evidence and academics have a seat at the policy-making table. Having academics serve in government is one mechanism for operationalizing evidence-informed policy practices, but we need to know more about where and for what purposes these relationships flourish (or decline). Developing more nuanced appreciations of research and policy interactions involving different disciplines, across different policy sectors is needed before we can suggest which models of interaction might fit different settings best. This also entails understanding what draws academics to work in government, what, if any, characteristics of academics drawn to health policy are unique compared to academics working in other areas of government, and how academics in government influence actual policy practices. To do so, we also need research and policy studies that include understanding the wider reasons why governments pursue EIP.
Authors' information
JR is a Doctor of Public Health candidate at the London School of Hygiene & Tropical Medicine and former Health Services Research & Policy Advisor to the Director of Health Services Research and Development at the U.S. Department of Veteran's Affairs.
NM is Professor of Health Policy and Director of the Policy Innovation Research Unit funded by England's Department of Health and Social Care.
AF is Assistant Professor and core member of the Policy Innovation Research Unit.
Ethics approval and consent to participate
Not applicable.
Consent for publication
Not applicable.
Competing interests
The authors declare that they have no competing interests.
Publisher's Note
Springer Nature remains neutral with regard to jurisdictional claims in published maps and institutional affiliations.
Open Access
This article is distributed under the terms of the Creative Commons Attribution 4.0 International License (
http://​creativecommons.​org/​licenses/​by/​4.​0/​
), which permits unrestricted use, distribution, and reproduction in any medium, provided you give appropriate credit to the original author(s) and the source, provide a link to the Creative Commons license, and indicate if changes were made. The Creative Commons Public Domain Dedication waiver (
http://​creativecommons.​org/​publicdomain/​zero/​1.​0/​
) applies to the data made available in this article, unless otherwise stated.