27.02.2019 | Evidence Based Review in Orthopedics | Ausgabe 2/2019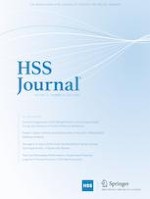 In Patients with Early-Onset Scoliosis, Can Growing Rods Be Removed Without Further Instrumentation? An Evidenced-Based Review
Zeitschrift:
Autoren:

MD Tony S. Shen, MD William Schairer, MD Roger Widmann
Wichtige Hinweise
Electronic supplementary material
Publisher's Note
Springer Nature remains neutral with regard to jurisdictional claims in published maps and institutional affiliations.
Abstract
Early-onset scoliosis (EOS) is defined by the presence of spinal deformity in children 10 years of age or younger. Left untreated, patients with EOS are at high risk for thoracic insufficiency and early demise. This article provides a critical review of a recent prospective cohort study of children with EOS: "Graduation Protocol After Growing-Rod Treatment: Removal of Implants without New Instrumentation Is Not a Realistic Approach," by Kocyigit and colleagues (
J Bone Joint Surg Am.
2017;99(18):1554–1564). Treatment for EOS requires deformity correction while accommodating the growing spine. Dual growing rod implantation is a well-described technique that consists of the placement of two telescoping rods anchored to vertebrae proximal and distal to the apex of the curve. Multiple lengthening procedures are then performed as the child grows. Management of the endpoint of growing rod treatment remains controversial, with high complication rates associated with final fusion. As an alternative to final fusion or implant retention, Kocyigit and colleagues examined the removal of growing rods without spinal fusion and found that this procedure resulted in substantial worsening of the deformity in nine out of ten patients. This treatment group was terminated on ethical grounds. We believe this important result demonstrates that the removal of implants without fusion is an unacceptable treatment strategy that leads to poor outcomes.