01.12.2014 | Research Article | Ausgabe 6/2014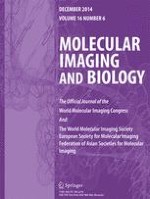 In Vitro

and

In Vivo

Characterization of Two C-11-Labeled PET Tracers for Vesicular Acetylcholine Transporter
Zeitschrift:
Autoren:

Prashanth K. Padakanti, Xiang Zhang, Hongjun Jin, Jinquan Cui, Ruike Wang, Junfeng Li, Hubert P. Flores, Stanley M. Parsons, Joel S. Perlmutter, Zhude Tu
Abstract
Purpose
The vesicular acetylcholine transporter (VAChT) is a specific biomarker for imaging presynaptic cholinergic neurons. Herein, two potent and selective
11
C-labeled VAChT inhibitors were evaluated in rodents and nonhuman primates for imaging VAChT
in vivo
.
Procedures
For both (−)-[
11
C]
2
and (−)-[
11
C]
6
, biodistribution, autoradiography, and metabolism studies were performed in male Sprague Dawley rats. Positron emission tomography (PET) brain studies with (−)-[
11
C]
2
were performed in adult male cynomolgus macaques; 2 h dynamic data was acquired, and the regions of interest were drawn by co-registration of the PET images with the MRI.
Results
The resolved enantiomers (−)-
2
and (−)-
6
were very potent and selective for VAChT
in vitro
(
K
i
 < 5 nM for VAChT with >35-fold selectivity for VAChT
vs
. σ receptors); both radioligands, (−)-[
11
C]
2
and (−)-[
11
C]
6
, demonstrated high accumulation in the VAChT-enriched striatum of rats. (−)-[
11
C]
2
had a higher striatum to cerebellum ratio of 2.4-fold at 60 min; at 30 min, striatal uptake reached 0.550 ± 0.086 %ID/g. Uptake was also specific and selective; following pretreatment with (±)-
2
, striatal uptake of (−)-[
11
C]
2
in rats at 30 min decreased by 50 %, while pretreatment with a potent sigma ligand had no significant effect on striatal uptake in rats. In addition, (−)-[
11
C]
2
displayed favorable
in vivo
stability in rat blood and brain. PET studies of (−)-[
11
C]
2
in nonhuman primates indicate that it readily crosses the blood-brain barrier (BBB) and provides clear visualization of the striatum; striatal uptake reaches the maximum at 60 min, at which time the target to nontarget ratio reached ~2-fold.
Conclusions
The radioligand (−)-[
11
C]
2
has high potential to be a suitable PET radioligand for imaging VAChT in the brain of living subjects.