01.11.2013 | Technological Innovations | Ausgabe 11/2013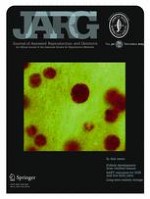 In vitro development of human primordial follicles to preantral stage after vitrification
Zeitschrift:
Autoren:

Fariba Khosravi, Robert L. Reid, Ashraf Moini, Farid Abolhassani, Mojtaba R. Valojerdi, Frederick W. K. Kan
Wichtige Hinweise
Capsule
In vitro culture of vitrified ovarian strips yielded follicles with high morphological integrity and viability suitable for fertility preservation in cancer patients.
Abstract
Purpose
The aim was to culture primordial follicles in vitro to reach preantral stage in vitrified human ovarian tissue.
Methods
Ovarian tissue samples were obtained from six women. Tissue strips were vitrified by infiltration with a cryoprotectant followed by mounting on a stainless steel carrier. After culturing for 7 days the morphology and developmental stages of follicles enclosed in fresh and vitrified groups were analyzed.
Results
High proportion of viable follicles in vitrified ovarian strips was obtained. After culturing for 7 days the percentage of secondary and preantral follicles increased significantly (
P
 < 0.05) whereas primordial and transitory follicles showed a significant decrease (
P
 < 0.05) compared to their respective counterparts at day 0 of culture.
Conclusions
Vitrification of ovarian strips with an improved carrier device and culturing of follicles in ovarian strips after warming yielded developed follicles with high viability and morphological integrity that may be suitable for use in fertility preservation among cancer patients.