01.12.2018 | Research article | Ausgabe 1/2018 Open Access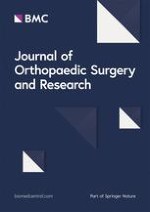 In vivo cartilage tissue engineering
Zeitschrift:
Autoren:

B. Gurer, S. Cabuk, O. Karakus, N. Yilmaz, C. Yilmaz
Abstract
Background
Biologic treatment options for cartilage injuries require chondrocyte expansion using cell culture. Clinical application is accomplished in two surgical sessions and is expensive. If isolation of chondrocytes and stimulus for proliferation and extracellular matrix synthesis can be achieved in vivo, the treatment can be performed in one session and the cost can be reduced.
Methods
A 2.5-cm diameter full-thickness chondral defect was created in the knees of five groups of sheep. In one group, some of the chondral tissues obtained from the creation of the defect were diced into small pieces and were placed into the defect and were covered with a collagen membrane (MIV group). In the other group, the collagen membrane was soaked in collagenase prior to usage. In the next group, the collagen membrane was soaked in both collagenase and growth factors. Matrix-induced autologous chondrocyte implantation (MACI) was applied to another group in two sessions, and the last group was left untreated. After 15 weeks of follow-up, repair tissues were compared macroscopically, histomorphometrically, and biochemically for tissue concentrations of glycosaminoglycan and type II collagen.
Results
MACI and MIV groups demonstrated better healing than others and were similar. Addition of collagenase or growth factors did not improve the results. Addition of collagenase did not have detrimental effect on the surrounding cartilage.
Conclusions
With the described method, it is possible to obtain comparable results with MACI. Further studies are also needed to see if it works similarly in humans.