24.03.2021 | Original Article | Ausgabe 7/2021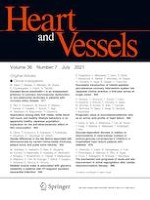 In vivo characterization of anti-atrial fibrillatory potential and pharmacological safety profile of
I

Na,L plus

I

Kr inhibitor ranolazine using the halothane-anesthetized dogs
Zeitschrift:
Autoren:

Yoshio Nunoi, Ryuichi Kambayashi, Ai Goto, Mihoko Hagiwara-Nagasawa, Koki Chiba, Hiroko Izumi-Nakaseko, Shinichi Kawai, Yoshinori Takei, Akio Matsumoto, Yoshinori Watanabe, Atsushi Sugiyama
Wichtige Hinweise
Publisher's Note
Springer Nature remains neutral with regard to jurisdictional claims in published maps and institutional affiliations.
Abstract
To characterize in vivo anti-atrial fibrillatory potential and pharmacological safety profile of ranolazine having
I
Na,L
plus
I
Kr
inhibitory actions in comparison with those of clinically available anti-atrial fibrillatory drugs; namely, dronedarone, amiodarone, bepridil and
dl
-sotalol in our previous studies, ranolazine dihydrochloride in sub-therapeutic (0.3 mg/kg) and supra-therapeutic (3 mg/kg) doses was intravenously infused over 10 min to the halothane-anesthetized dogs (
n
 = 5). The low dose increased the heart rate, cardiac output and atrioventricular conduction velocity possibly via vasodilator action-induced, reflex-mediated increase of adrenergic tone. Meanwhile, the high dose decreased the heart rate, ventricular contraction, cardiac output and mean blood pressure, indicating that drug-induced direct actions may exceed the reflex-mediated compensation. In addition, it prolonged the atrial and ventricular effective refractory periods, of which potency and selectivity for the former were less great compared with those of the clinically-available drugs. Moreover, it did not alter the ventricular early repolarization period in vivo, but prolonged the late repolarization with minimal risk for re-entrant arrhythmias. These in vivo findings of ranolazine suggest that
I
Na,L
suppression may attenuate
I
Kr
inhibition-associated prolongation of early repolarization in the presence of reflex-mediated increase of adrenergic tone. Thus, ranolazine alone may be less promising as an anti-atrial fibrillatory drug, but its potential risk for inducing torsade de pointes will be small. These information can be used as a guide to predict the utility and adverse effects of anti-atrial fibrillatory drugs having multi-channel modulatory action.