01.12.2012 | Research | Ausgabe 1/2012 Open Access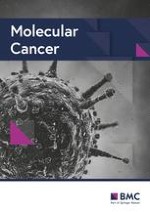 In vivo

gene transfer targeting in pancreatic adenocarcinoma with cell surface antigens
Zeitschrift:
Autoren:

Marie Lafitte, Benoit Rousseau, Isabelle Moranvillier, Miguel Taillepierre, Evelyne Peuchant, Véronique Guyonnet-Dupérat, Aurélie Bedel, Pierre Dubus, Hubert de Verneuil, François Moreau-Gaudry, Sandrine Dabernat
Wichtige Hinweise
Electronic supplementary material
The online version of this article (doi:
10.​1186/​1476-4598-11-81
) contains supplementary material, which is available to authorized users.
François Moreau-Gaudry and Sandrine Dabernat contributed equally to this work.
Competing interests
The authors declare that they have no competing interests.
Authors' contributions
ML, MT and SD carried out
in vitro
assays. Western blotting was performed by IM.
In vivo
experiments were designed by FMG, PD, EP and SD and were carried out by ML, BR, IM and SD. VGD, MT and FMG designed and produced the vectors. ML, BR, FMG and SD analyzed the results and produced the figures. EP, HV and AB participated in the discussion and interpretation of the study and manuscript preparation. SD and FMG wrote the manuscript. All authors read and approved the final manuscript.
Abstract
Background
Pancreatic ductal adenocarcinoma is a deadly malignancy resistant to current therapies. It is critical to test new strategies, including tumor-targeted delivery of therapeutic agents. This study tested the possibility to target the transfer of a suicide gene in tumor cells using an oncotropic lentiviral vector.
Results
Three cell surface markers were evaluated to target the transduction of cells by lentiviruses pseudotyped with a modified glycoprotein from Sindbis virus. Only Mucin-4 and the Claudin-18 proteins were found efficient for targeted lentivirus transductions
in vitro
. In subcutaneous xenografts of human pancreatic cancer cells models, Claudin-18 failed to achieve efficient gene transfer but Mucin-4 was found very potent. Human pancreatic tumor cells were modified to express a fluorescent protein detectable in live animals by bioimaging, to perform a direct non invasive and costless follow up of the tumor growth. Targeted gene transfer of a bicistronic transgene bearing a luciferase gene and the herpes simplex virus thymidine kinase gene into orthotopic grafts was carried out with Mucin-4 oncotropic lentiviruses. By contrast to the broad tropism VSV-G carrying lentivirus, this oncotropic lentivirus was found to transduce specifically tumor cells, sparing normal pancreatic cells
in vivo
. Transduced cells disappeared after ganciclovir treatment while the orthotopic tumor growth was slowed down.
Conclusion
This work considered for the first time three aspect of pancreatic adenocarcinoma targeted therapy. First, lentiviral transduction of human pancreatic tumor cells was possible when cells were grafted orthotopically. Second, we used a system targeting the tumor cells with cell surface antigens and sparing the normal cells. Finally, the TK/GCV anticancer system showed promising results
in vivo
. Importantly, the approach presented here appeared to be a safer, much more specific and an as efficient way to perform gene delivery in pancreatic tumors, in comparison with a broad tropism lentivirus. This study will be useful in future designing of targeted therapies for pancreatic cancer.