01.12.2020 | Research | Ausgabe 1/2020 Open Access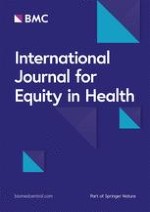 Incarcerated Aboriginal women's experiences of accessing healthcare and the limitations of the 'equal treatment' principle
Zeitschrift:
Autoren:

S. Kendall, S. Lighton, J. Sherwood, E. Baldry, E. A. Sullivan
Wichtige Hinweise
Publisher's Note
Springer Nature remains neutral with regard to jurisdictional claims in published maps and institutional affiliations.
Abbreviations
ACCHOs
Aboriginal Community Controlled Health Organisations
AMS
Aboriginal Medical Services
Background
Theoretical underpinnings
The decolonizing approach utilised in this study draws on critical social theory and Indigenous research methods to privilege Aboriginal people's ways of knowing, being and doing [
48
]. Critical social theories draw into question the positivistic claim that there is a single objective truth and go further to argue that dominant Western paradigms reproduce inequity through the production of 'evidence' that inherently denies or marginalises alternative points of view. Critical theoretical approaches are concerned with addressing social justice issues. From an applied ethics perspective, critical social theory points to the value of intersubjective decision-making including the perspectives of all people affected by the decisions in a discursive process [
49
]. For Indigenous people, Western paradigms are an integral part of colonization, subjugating and invalidating Indigenous peoples' knowledge to rationalize and maintain the colonial agenda. Western research contributes to this agenda through employment of methods that exclude consultation with Aboriginal people and communities and, consequently the proliferation of deficit understandings of Aboriginal people [
48
,
50
]. We sought to decolonize these ways of doing research, collaborating with Aboriginal women and their communities, acknowledging them as the experts on their needs [
51
].
Methodologies used in research for surveillance of prison population health lead to problematic understandings of incarcerated Aboriginal women due to the lack of attention to context, including lack of acknowledgement of the ongoing effects of colonization on Aboriginal women and their communities and lack of attention to issues of health equity and women's subjective experiences [
19
]. Our decolonizing approach acknowledges the ongoing effects of colonization on Aboriginal health, and the variation of the effects of colonization in different locations across Australia, guided by Aboriginal concepts of health and social and emotional wellbeing [
51
,
52
]. We used a reflexive, iterative and intersubjective approach to the construction of knowledge in collaboration with Aboriginal women and their communities.
Prior to the data collection, the lead Aboriginal researcher in NSW and other members of the research team spent a number of years consulting and working with Aboriginal women's community organisations across NSW, forming a Project Advisory Group (PAG) that guided the research throughout all stages of the study. When the data collection began, Aboriginal women in prison were supported in telling their stories of resilience. We interpreted the data through a process of dialogue, shared understanding, and collaborative consensus with the women who participated and the PAG. In this article, we have focused on what women said about their experiences of the prison health system and healthcare accessibility in prison and outside. We took an inductive, grounded theory approach to the data analysis to develop themes centred on what the women said. The aim of this research is to elucidate incarcerated Aboriginal women's experiences of prison healthcare, investigate equity of access to culturally safe healthcare in prison, and identify pathways for improving the accessibility of culturally safe healthcare.
Methods
The EQUATOR Standards for Reporting Qualitative Research were used in the preparation of the manuscript [
53
].
Methodology
This project was guided by a community collaborative participatory action research methodology [
52
] and a grounded theory approach [
54
]. Community collaborative participatory action research is an iterative, multi-methods approach positioning Aboriginal people as the experts [
48
,
51
,
52
]. In this project, collaboration with Aboriginal women and their communities guided all stages of the project from planning through to dissemination, including 2 years of consultation preceding the data collection. This approach ensured that the aims and methods of the study aligned with community priorities. The two-year consultation stage led to the formation of the PAG to guide the remaining stages of the research with members from Aboriginal community organisations, Aboriginal community controlled health services, government departments (corrective services and justice health) and non-government organisations. We developed the data collection tools in collaboration with the PAG and held regular meetings during the analysis to collaborate on interpretation of the data. Aboriginal concepts of health and social and emotional wellbeing framed our research, recognising the importance to Aboriginal people of connection to land, culture, spirituality, ancestry, family and community. This view of health requires looking beyond the physical needs of the individual and understanding health in a context of inequity, trauma, racism and discrimination and the influences of what assists people in accessing health services [
3
]. The relationship with the PAG is ongoing.
Recruitment
We employed a purposive, convenience sampling method, including NSW prisons housing 10 or more women. Prisons with less than 10 women were excluded from the sample. Six prisons were included in the sample. A combination of minimum, medium, and maximum security prisons located in urban and regional locations in NSW were included. This was the most appropriate sampling method for involving as many women in the research as possible given the vast geographical distances between prisons in NSW, and the logistical challenges of prison research including unexpected transfer of women between prisons, release of women to the community and security 'lock-downs' blocking access to the women.
We built respectful relationships with participants and their communities prior to the data collection, including prison visits to share information about the project, and have maintained these beyond the funded project. Data collection in NSW was conducted in two stages, the first stage involving a participant-administered health and social and emotional wellbeing quantitative survey, with recruitment open to all Aboriginal women in prison. The findings of the survey are reported elsewhere [
23
]. This first stage of data collection gave the researchers the opportunity to get to know the women and invite them to participate in the qualitative stage of the research. As this study was part of a wider study investigating the health of Aboriginal mothers in prison in Australia, the qualitative component of the research focused on the experiences of Aboriginal mothers in prison. The vast majority of women in prison are mothers [
18
]. Inclusion criteria for the interviews were that the women self-identified as Aboriginal and as a mother. Participation was voluntary and women were advised that they could withdraw from the research at any time. All participants provided informed consent.
Data collection
Interviews were conducted in 2013. The lead Aboriginal female researcher in NSW and a non-Indigenous female researcher co-facilitated the interviews. Interviews were conducted in English, the primary language spoken by the women. We used a semi-structured interview guide, developed in collaboration with the PAG, and applied a yarning approach, providing space for women to tell their story through a supportive, co- facilitative method that privileged their knowledge as expert [
55
–
57
]. The interview guide contained topic areas relating to the women's experiences of prison and health care experiences, the impact of incarceration on family and community, and the women's goals, strengths and support systems. Sociodemographic data were not collected from interview participants, as they had already been asked to provide this data at the time of participating in the health and social and emotional wellbeing surveys. The interviews were audio-recorded and professionally transcribed. The average interview length was 30 min.
Data analysis
We conducted a thematic data analysis [
58
], taking an inductive semi-grounded-theory approach to generate themes across the interviews [
54
]. This was a four-stage process. Stage one involved Aboriginal and non-Indigenous researchers from the project team coding and interpreting a sample of the data and developing a coding frame. As a process of internal validation, we continued coding until reaching consensus that we were identifying codes and interpreting the data consistently. Stage two consisted of two researchers from stage one coding the remaining transcripts. NVivo 10 QSR International software was utilised as a data management tool. As new codes emerged that did not appear in the coding frame, these were discussed amongst the research team. Stage three involved workshopping the codes into themes and presenting them to the PAG for interpretation and as a process of external validation. Themes were conceptualised, contextualized, and developed further by the PAG. Stage four involved reviewing and revising themes incorporating the PAG advice and finalising a conclusive set of themes and sub-themes that mapped our data. Following Braun and Clarke (2006) [
58
], we considered not only the story being told within each theme but how the themes interrelated and fit into the broader story told by the data.
Results
Forty-three Aboriginal women were interviewed. This is the largest qualitative study of Aboriginal women in prison in NSW in 15 years [
29
]. Table
1
shows the location of participants and prison security level.
Table 1
Participant location and prison security level
| Interview no. | Prison location | Prison security level |
| --- | --- | --- |
| 1–6 | Urban | Minimum |
| 7–13 | Urban | Minimum/Medium |
| 14–22 | Regional | Minimum/Medium/Maximum |
| 23–27 | Regional | Minimum/Medium |
| 28–32 | Urban | Minimum |
| 33–43 | Urban | Minimum/Medium |
The analysis identified four primary themes in relation to women's experiences of accessing prison health care: 1) mixed experiences; 2) loss of autonomy; 3) institutional racism; and 4) strategies for accessing healthcare.
Theme 1: mixed experiences
Aboriginal women described mixed experiences of prison healthcare. Some women in the study reported prison healthcare systems improved the management of some physical health conditions because the health service was on site, providing regular monitoring of health conditions, scheduled appointments and reminders. Some women who experienced improved management of their health reported positive engagement with prison health workers. For example, the woman quoted below spoke about daily follow up appointments after dental surgery for a painful abscess and attentive and thorough post-surgery care from nurses. She was no longer in pain, attributing this outcome to the healthcare she had received.
I see a nurse every day. I went and got three teeth out last week, and I am so glad because I have an abscess on my tooth and I come in with it. I had an appointment Thursday anyway so I got them out last week anyway, which was good. No more pain. They're keeping a close eye on me because I've got community acquired MRSA [MRSA infection] and they've been turning into ulcers lately, and they're thinking whether that could be diabetes early stages or something like that there, because it takes quite a while to heal. But they've been checking my blood sugar, my sugar and all of that. (Interview 20)
Other women in our study associated improvements in their health due to taking the correct medication in prison. These improvements in health were identified as situational, associated with effective medication management in prison, rather than particular attributes of health service providers. One woman said her epilepsy was well-managed in prison due to her taking the correct medication and not substituting with illicit drugs for symptom relief:
I had disability pension, I've got epilepsy, so - Facilitator: Is that managed? Do you feel like it's managed well here? Interviewee: In gaol it is. The last two years I haven't had a seizure in gaol, which is good. Outside when I don't take my medication, I'm using heroin, it's - I don't usually have seizures outside because the heroin is a downer, it does calm my brain but it's not the right medication I should be taking. (Interview 35)
Another woman spoke about improvements in her mental health due to taking regular medication in prison, although there were limitations to this. This woman told us that she was taking anti-depressant medication regularly in prison, the same that she had been prescribed in the community. In the community, she said there was no point in taking the medication because her social circumstances were the reason she was unwell
"I was still living in it"
. She reported that taking anti-depressant medication regularly in prison had made a positive difference but that she is still unwell,
"I'm still living in it"
, suggesting that the factors contributing to her social and emotional wellbeing remain unsolved. As she said:
Facilitator: And are you well physically? Interviewee: No. No, I'm depressed. I'm on medication for it. Facilitator: Okay. Were you on that before you came inside? Interviewee: Yeah, but I shouldn't have been taking it but because I'm still living in it, it's not worth taking anti-depressants, yeah, because I was still living in it, yeah. Facilitator: And now you're on them you can - you're taking them in here? Interviewee: Yeah, got to take them every day. Facilitator: Have they made a difference for you? Interviewee: Yeah, they have. (Interview 30)
This woman's story highlights the limitations of pharmacological treatments when women do not receive support for their social and emotional wellbeing or are provided comprehensive information about the medication they are taking including contraindications. We return to this issue in the discussion.
Theme 2: loss of autonomy
There was a strong theme relating to negative experiences of loss of autonomy in the prison environment. Being in prison substantially took away women's self-determination as health service users. Aboriginal women reported a lack of being able to participate in their care in prison and exclusion from decision-making processes about their treatment. Prison restricts the typical everyday healthcare choices taken for granted in the community, such as being able to self-diagnose and obtain over-the-counter medication at a pharmacy. Previously simple decisions about non-prescription medication, such as the use of headache medications, required approval. Women expressed feeling helpless and frustrated that they were forced to seek help for very minor conditions. Women also lost control over being able to continue some medications that had worked for them in the community and the dosage of the new medications prescribed. As said by these women:
You know, you can't get a Panadol without seeing a doctor. There are women suffering from drug taking behaviour, I understand that but it's not everyone. (Interview 3)
I'm on Seroquel. I've been taking - all my information is legit. They're not giving my medication in here. I just recently come down from 1200 to 50 milligrams. (Interview 34)
Yeah, I suffered bad anxiety and I'm on anxiety medication outside but obviously they don't give it here. Yeah, very bad anxiety. (Interview 12)
This lack of medication could have dire consequences. One woman shared a story with us about another woman taking her own life because she was not given the medication she needed in prison. Women also expressed loss of autonomy in relation to accessing healthcare when they needed it. Women shared experiences of long wait times for health checks, diagnostic testing, and medication review due to the workload of prison health staff. The quotes below illustrate the women's loss of control in the face of long waiting times:
I come in, what, late January and it come to February and I said to one of the nurses, I said, "Can you organise for me to have a Pap smear test?", and I'm still waiting on it. (Interview 27)
They [Anti-anxiety medication] get given to me every day … Oh, they reckon they were going to do that [review dosages] ages ago, but no, they're just too busy.

(

Interview

15)
I was supposed to be on antidepressants, I'm still waiting. I've been off them for about a week now. (Interview 20)
For some women, waiting times had a profound and devastating impact on their health. Some interviews prompted the researchers, with the women's consent, to notify the senior Aboriginal (non-custodial) staff member supporting our project at the prison sites that women needed to be seen urgently by prison health services due to sudden and substantial reductions in medication or because they were not receiving any medication. In the quote below, one woman reports two health crises triggered by lack of timely, adequate healthcare. This woman experienced a seizure after waiting 9 h for a health check in prison reception, resulting in an emergency response and transfer to the hospital. On return to the prison, she spent one night in the prison health clinic. Shortly after discharge from the clinic, she overdosed on pills in her cell, and was taken back to hospital.
I come here, we got off the truck at 6:00, 6:30 in the morning. We got kept in one of them cells over there with just the bench silver seats. From that time in the morning until 3:30 in the afternoon we were waiting to see the nurses and then welfare to get screened before you come in. Yeah, I ended up having a seizure and that's when all of them come running. I went to the hospital … I stayed in there. They tried getting blood and that out of me, checked me over and that. Couldn't get blood. Even tried to go in my groin here and still couldn't get blood, so I was sent back here. Then when I was in here I spent one night over in the clinic and then when I come straight over here I come in with tobacco and that and I ended up swapping whatnot and getting my hands on pills from in here, so I OD'd [overdosed] the next night. So they took me back to the hospital for that. But after all that happened I've only been taking my own medication.

(

Interview

22)
As described in the quote above, this woman experienced two life-threatening emergencies due to a failure of both the custodial and health system to ensure her safety. In the first instance this woman was placed in a life-threatening situation due to the time she had to wait for a health assessment. In the second instance, inadequate supports were in place as she transferred to a cell post-discharge from prison and community health services. Exiting care can be a time of elevated vulnerability without adequate supports [
59
,
60
], yet in both instances for this woman, access to care required the onset of acute symptoms that could have resulted in a death in custody.
In the example below, one woman describes waiting five-months to see a psychologist (psychology services are provided by the department of corrective services in NSW rather than the justice health service), following the removal of her newborn son from her care. This woman describes reaching 'breaking point' during this time, as prison guards repeatedly ignored her requests for help and she began to worry that she would become suicidal. This woman had no option but to continue to report her symptoms and wait.
After I had my son they said I had to see someone a week after I had him. I had one night and one day with him and, yeah, took me five months to actually see a counsellor. I've only seen a psychiatrist and that was only 20 minutes. There's not enough support at all, like there really isn't. It just takes forever, like I've had to ring and say that I'm not well, like I'm really depressed and I'm going to find myself in trouble because the guards don't want to listen, nobody wants to listen, I've got to break before I see someone. (Interview 4)
This woman's story shows not only a loss of autonomy because of her dependence on prison guards for access to healthcare and loss of rights to complaint and recourse, but also a severe and punitive lack of care for this woman who had experienced the significant trauma of her child being removed and was proactively asking for support. Custodial staff were highly negligent in their responsibility to treat this woman with respect for her dignity and wellbeing in accordance with the basic principles for the treatment of prisoners [
61
]. As shown by the results in the next section, for Aboriginal women, experiences of not being heard or responded to were connected with numerous experiences of institutional and individual racism.
Theme 3: institutional racism
Aboriginal women reflected they did not receive the same treatment as non-Indigenous women in prison or in the community. Women spoke about stereotyping, being judged prejudicially, and receiving differential poorer treatment compared to non-Indigenous women. Entry into prison marked and enhanced the impact of the continuation of racism, discrimination and stereotyping in the community layered with the additional stigma of an 'offender' identity. As this woman said:
We get judged a lot and I know that Aboriginal girls get judged a lot. It's stereotyping, you know, and it's like: Oh you're back in, yeah. It's not right... I've seen it. I've seen the girls in here get treated differently because they're Aboriginal and I think we all should be treated equally. I'm a big believer of that. (Interview 37)
Notwithstanding the fact that prison provides a number of treatment options for substance use ranging from symptom relief to opioid substitution, Aboriginal women also experienced stereotyping as active drug seekers. Women described that healthcare decisions were based on this stereotype, rather than on their actual symptoms or requests, and they consequently were not able to access healthcare for the same health problems as non-Indigenous women. The following quote is illustrative, with this woman describing being accused of seeking pain medication when she had not asked for it, being called a 'drug chaser' by prison health staff and not being provided with any treatment for her health problem. She raises the issue of systemic discrimination, reporting that a non-Indigenous woman with the same health problem had been taken to the hospital.
Interviewee: And there's other girls that go up there they've had bad pains in the belly - I went up there and she said I'm not giving you buscopan. I said I haven't even asked for it and why not? Why am I different to other people in here? Facilitator: What do you think that's about? Interviewee: They're just discriminating against me I think. Facilitator: Do you see everyone else getting good health service? Interviewee: Yes. Facilitator: Do other mob get it okay? Interviewee: Yes, seems like it. There's another girl in here, I don't know if it has anything to do with culture or not but she is white, and she's been taken to the hospital a lot and anything that's wrong with her they take her straight up. I've had the same things wrong with me and nothing's happened. I'm a drug chaser under their eyes. They've told me that. (Interview 15)
There is evidence that this framing of Aboriginal women's symptoms and signs can result in denial or delay in access to culturally safe health care as seen with the recent high profile case of Ms. Dhu, an Aboriginal woman who was in police custody for un-paid fines in Western Australia. Ms. Dhu was prejudicially labelled by health and custodial staff as seeking drugs, although she was in severe pain and eventually died of cardiac failure. The coroner in this case reported the death of Ms. Dhu was due to deficient hospital treatment [
62
]. Women in our study also reported experiences with the medical profession outside of prison where they were not adequately attended to due to stereotyping. In the quote below, one woman describes going to hospital after an incidence of intimate partner violence where her injury was treated as an accident and not reported.
Well on the day of the incident I was knocked out unconscious and the doctor that - I woke up in hospital, he was stitching me up, so he didn't know, he wasn't aware that it was - it was an attack. He thought it was just an accident and he let me out of hospital. And I'm remembering more - I was remembering more because I moved out of A [place name removed] and went to B [place name removed] and used hot water, hot baths to give me relief and the doctor down at A [place name removed] wasn't aware that I was actually attacked and beaten and bashed by this [partners name removed]. And he just thought it was an accident, stitched me up and let me out. (Interview 33)
This experience of the woman quoted above is consistent with the concerns raised in Australia's recent address to the United Nations Human Rights Council in response to the Special Rapporteur on Violence Against Women, which highlight that the majority of violence against Aboriginal women goes unreported and women are "too often met with systemic racism when they reach out for help" [
63
]. Our study shows that racism within the custodial and health systems can result in exacerbation of health problems, inadequate healthcare, and blocked access to healthcare for Aboriginal women.
Theme 4: strategies for accessing healthcare
The women's narratives evidenced a strong belief in the importance of health matched with pro-action regarding their health. However, because the prison healthcare system contains unique procedures, rules and power relationships, some of which become known to the women over time and some of which continue to be opaque, women had to employ a variety of strategies to access prison health services. Women who were new to prison reported a lack of orientation to the prison healthcare system. These women reported difficulty in obtaining information to access health services and frustration with the lack of efficiency within the system. In the absence of induction to the system and established peer-networks to facilitate learning about the system, custodial officers were gatekeepers to the prison health service. However, interactions with custodial staff could be a barrier to accessing healthcare, as illustrated by the following quote:
I did a green form and he laughed at me. He goes, you don't do a green form. See, because I'm new, I … no-one's explained anything. That's another thing that I don't like, is they don't explain anything. (Interview 19)
Women who had been in prison for some time or who had been imprisoned previously typically had a better knowledge of the operational dimension of the prison healthcare system. These women were able to work with the system to engage with health services. They knew which forms to fill in and where to submit them. They had knowledge of which staff member would be most appropriate to speak to regarding their needs and held an appreciation of the likely timeframes for treatment. Some women wanted to build positive relationships with prison officers to enhance their engagement with services and programs; others were simply pragmatic about their engagement with the system. As these women said:
Yeah, I try to be encouraging. Like if I do end up doing – if I do get a custodial sentence and I do, like, you know two years or something, I want to actually really get in a good relationship with the officers out here and get a lot of programs with, you know, educational programs for, you know, HIV and sharing needles and stuff. (Interview 39)
When I first come in last Monday, before you come in here, you see a nurse and they ask you if you've got anything wrong with you and I said yeah I've got an ulcer and a boil coming up, and they look at it and check it, maybe swab it. They go on from there, and because I've had it before and because it needs clean dressings, it's required to keep it under check because it can easily spread. So I just go in, and if they don't call me up you just go sick in the cell. You can only do that in the morning or you put in a green form with the nurse that comes in to hand out the pills and say that you need to see a nurse ASAP [as soon as possible] for such and such reason. So you get called up then, if it's urgent. (Interview 20)
Some women described needing to challenge the system to access healthcare. Women adopted this position as a result of failed attempts to engage with the system on a more positive basis. Challenging the system involved voicing their dissatisfaction and unmet needs. Some women challenged the diagnosis and treatment they had received in prison. As shown by the quotes below, others challenged system inefficiencies, inconsistent information, lack of follow up, and the process for accessing the Methadone program.
I'm coming here every day going can I have a request form, you told me to go here after 4.30, they go no, we told you to go here. I come back at 3.30 the next day, right, they go no, you've got to be here after 4.30. I said is it 3.30 or 4.30? I said, because different times, what time do I come in here and what day? And I thought why is it so hard, why isn't there a direct time to get a bloody request form. You have to be there at a certain time and speak to a certain officer on a certain day. Like I say, it's all about management - managing appointments, you know, and stuff like that but they have no sense of management … the staff doesn't know what they're doing, how are we supposed to know what we're doing, you know what I mean? (Interview 4)
I've seen the Methadone doctor three times and all he did was put me on Neulactil and he said - because I'm on the Avanza and whatnot that I'm on enough medication. I'm still waiting for the methadone. I've put two green forms in and I haven't heard nothing back yet, so I don't know. They're not good with that I don't think since they've changed all the rules. You used to be able to get on it when you come in but now all your paperwork's got to be sent to Sydney and you go on a waiting list. (Interview 22)
The lengths that women had to go to in order to get answers to simple questions about forms and timeframes for accessing healthcare, only to be met with incorrect answers and inconsistent information from staff, is highly problematic considering the health risks in the environment and that many women come into prison seeking healthcare. Long waiting times, the difficulties Aboriginal women in prison experience in getting custodial staff to treat their requests for help as legitimate, and experiences of discrimination from health service providers resulting in their health concerns going unaddressed, illustrate an inaccessible, culturally unsafe health system for Aboriginal women in prison.
Discussion
Conclusion
Statements about the priorities of prison healthcare in Australia recognise that Aboriginal women in prison experience health and social inequity and explicitly articulate commitment to the equal treatment principle and the need for practitioners to provide high quality, culturally safe health care that improves health outcomes [
38
,
81
]. Our study shows there are significant limitations to the 'equal treatment' principle for addressing the inequity of access to culturally safe health services for Aboriginal women in prison and outside. A decolonizing, cultural competence approach including enhanced access to Aboriginal community controlled health services in prison is required to address this inequity. The NSW prison health service recently stated the need to address the disparity of health outcomes experienced by Aboriginal women and appointed a family support worker from 'Waminda South Coast Women's Health and Welfare Aboriginal Corporation', the only Aboriginal Community Controlled Health Service in NSW specifically for women, to provide in-reach support to Aboriginal women in prison returning to the South Coast catchment area. This unique program was not available to Aboriginal women at the time of this study and future research should seek to speak to Aboriginal women accessing this culturally safe service about their experiences to inform further policy and practice change.
Acknowledgements
We extend our greatest thanks to the courageous Aboriginal women who shared their stories with us for this research. We would also like to thank the expert project advisory group of Aboriginal women who guided this study in NSW, Corrective Services NSW and the Justice Health and Forensic Mental Health Network. Acknowledgements also extend to the other members of the project grant team: Tony Butler, Marisa Gilles, Jocelyn Jones, Michael Levy, and Mandy Wilson.
Ethics approval and consent to participate
The study was approved by the following ethics committees: Aboriginal Health and Medical Research Council NSW, the Justice Health and Forensic Mental Health Network NSW, Corrective Services NSW, the University of NSW, and the University of Technology Sydney. All participants in this study provided informed consent.
Consent for publication
Not applicable.
Competing interests
Author EAS is part-time Research Lead, Justice Health and Forensic Mental Health Network NSW.
Open Access
This article is licensed under a Creative Commons Attribution 4.0 International License, which permits use, sharing, adaptation, distribution and reproduction in any medium or format, as long as you give appropriate credit to the original author(s) and the source, provide a link to the Creative Commons licence, and indicate if changes were made. The images or other third party material in this article are included in the article's Creative Commons licence, unless indicated otherwise in a credit line to the material. If material is not included in the article's Creative Commons licence and your intended use is not permitted by statutory regulation or exceeds the permitted use, you will need to obtain permission directly from the copyright holder. To view a copy of this licence, visit
http://​creativecommons.​org/​licenses/​by/​4.​0/​
. The Creative Commons Public Domain Dedication waiver (
http://​creativecommons.​org/​publicdomain/​zero/​1.​0/​
) applies to the data made available in this article, unless otherwise stated in a credit line to the data.
Publisher's Note
Springer Nature remains neutral with regard to jurisdictional claims in published maps and institutional affiliations.