01.12.2008 | Review | Ausgabe 1/2008 Open Access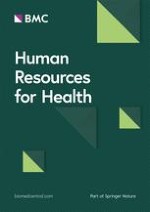 Incentives for retaining and motivating health workers in Pacific and Asian countries
Zeitschrift:
Autoren:

Lyn N Henderson, Jim Tulloch
Wichtige Hinweise
Electronic supplementary material
The online version of this article (doi:
10.​1186/​1478-4491-6-18
) contains supplementary material, which is available to authorized users.
Competing interests
The authors declare that they have no competing interests.
Authors' contributions
LH and JT collaborated on the design and drafting of the manuscript. All authors approve the final manuscript.
List of abbreviations used
AAAH
Asia Pacific Action Alliance on Human Resources for Health
AHPSR
Alliance for Health Policy and Systems Research
AusAID
Australian Agency for International Development
DfID
United Kingdom Department for International Development
GHWA
Global Health Workforce Alliance
ILO
International Labour Organization
NZAID
New Zealand Agency for International Development
UNDP
United Nations Development Program
UNICEF
United Nations Children's Fund
USAID
United States Agency for International Development
WHO
World Health Organization
Review
Conclusion
The shortage of health workers in Pacific and Asian countries is a critical issue that must be addressed as an integral part of strengthening health systems. Health workers migrate, leave the health sector, or use various coping strategies in response to difficult circumstances such as poor or intermittent remuneration, inadequate working conditions, limited training opportunities or weak supervision.
To minimize attrition from the health workforce and the negative effects of coping strategies, efforts are required to address the causes of health worker dissatisfaction and to identify the factors that influence health worker choices. The challenges in maintaining an adequate health workforce require a sustained effort in workforce planning, development and financing. This effort requires innovative strategies – such as incentive packages – for retaining and motivating health workers in resource-constrained settings.
The health system in each country is different and requires different strategies to stem the loss of skilled health workers, especially in rural and remote areas. Consequently, there is no global model for improving the retention of health workers and their performance. The literature highlights the importance of considering a broad range of incentives that may be packaged to attract health workers and to encourage them to stay in the health sector. It emphasizes that non-financial incentives can be as crucial as financial incentives.
There is potential for health worker incentives schemes to succeed in the Asia-Pacific region. Successful incentive strategies are multifaceted and include:
long-term political commitment and sustained effort at all levels

a deep understanding of the cultural, social, political and economic context in which the incentives strategy is being developed

involvement of key stakeholders – especially the health workers themselves – in developing the strategy, formulating policy and implementing initiatives

integration of efforts between government sectors, donors, non-governmental organizations and the private sector to ensure the initiatives are sustainable

packages of coordinated and linked financial and non-financial incentives that adequately respond to the needs of health workers

monitoring and evaluation tools and systems

strengthened supervision and management capacities

performance management systems that link health worker performance to supportive supervision and appraisal, and

continued research on what motivates health workers in order to adapt and adjust the incentives to the changing needs and desires of the workforce.
While the literature identifies several approaches for improving the motivation and retention of health workers through the use of incentives, there is a paucity of evidence on the efficacy of various incentives schemes. Further examination and analysis are needed to better understand the contributing factors to health worker motivation and retention, and to ascertain the extent to which different incentives, or packages of incentives, influence health workers. This information is critical for effective workforce planning and policy development in the health sector.
In conclusion, incentive packages to attract, retain and motivate health workers should be embedded in comprehensive workforce planning and development strategies in Pacific and Asian countries. Research findings from the region indicate that improved salaries and benefits, together with improved working conditions, supervision and management, and education and training opportunities are important. Country-specific strategies require examination of the underlying factors for health worker shortages, analysis of the determinants of health worker motivation and retention, and testing of innovative initiatives for maintaining a competent and motivated health workforce. Continued research and evaluation will strengthen the knowledge base and assist the development of effective incentive packages for health workers. For additional reading please see Additional file
1
.
Acknowledgements
Disclaimer: The views expressed are those of the authors alone and do not necessarily represent the views of the Australian Government.
This article is published under license to BioMed Central Ltd. This is an Open Access article distributed under the terms of the Creative Commons Attribution License (
http://​creativecommons.​org/​licenses/​by/​2.​0
), which permits unrestricted use, distribution, and reproduction in any medium, provided the original work is properly cited.
Competing interests
The authors declare that they have no competing interests.
Authors' contributions
LH and JT collaborated on the design and drafting of the manuscript. All authors approve the final manuscript.