08.11.2018 | Original Article - Brain Tumors | Ausgabe 12/2018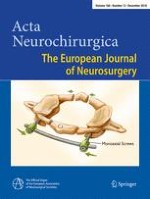 Incidence and clinical significance of postoperative delirium after brain tumor surgery
Zeitschrift:
Autoren:

Antanas Budėnas, Šarūnas Tamašauskas, Albertas Šliaužys, Ieva Navickaitė, Miglė Sidaraitė, Aistė Pranckevičienė, Vytenis Pranas Deltuva, Arimantas Tamašauskas, Adomas Bunevičius
Wichtige Hinweise
Presentation at a conference: Early study results were presented at 17th European Congress of Neurosurgery as "Incidence and clinical significance of postoperative delirium after brain tumor surgery" S. Tamasauskas, A. Budenas, A. Sliauzys, A. Tamasauskas, V.P. Deltuva, A. Bunevicius
This article is part of the Topical Collection on
Brain Tumors
Comments
This study indicates that postoperative delirium occurs after surgery for brain tumours, albeit infrequently. Also, demographic rather than tumour-related factors are associated with the occurrence. Since the patients' performance level was assessed at discharge, this study is unlikely to say much about how postoperative delirium affects long-term performance.
Kirsten Moeller
Denmark
Abstract
Background
Delirium is an acute and reversible deterioration of mental state. Postoperative delirium (POD) can develop after surgical procedures and is associated with impaired health status and worse recovery. So far, there is little data about postoperative delirium after brain surgery. The aim of this study was to evaluate frequency, risk factors, and prognostic value of POD in predicting short-term postoperative outcomes after brain tumor surgery.
Methods
Five-hundred and twenty-two patients who underwent elective brain tumor surgery in 2010–2017 were included in this prospective study. Patients were monitored for POD using the Confusion Assessment Method for the ICU (CAM-ICU) for 2 to 7 days after the surgery. At hospital discharge, outcomes were evaluated using the Glasgow Outcome Scale (GOS).
Results
POD was diagnosed in 22 (4.2%) patients. Risk factors of POD were low level of hemoglobin, poor functional status at time of admission, low education level and older age (65 years and older). POD incidence was not associated with brain tumor laterality, location, extent of resection, histological diagnosis, or affected brain lobe. POD was associated with greater risk for unfavorable outcomes at hospital discharge (OR = 5.3; 95% CI [2.1–13.4],
p
 = 0.001).
Conclusions
POD is not a common complication after elective brain tumor surgery. Older age, poor functional status, low education level and anemia are associated with greater POD risk. Extent of surgical intervention and brain tumor location are not associated with POD risk. POD is associated with worse outcome at hospital discharge.