01.12.2018 | Research article | Ausgabe 1/2018 Open Access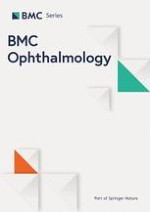 Incidence of endophthalmitis after 23-gauge pars plana vitrectomy
Zeitschrift:
Autoren:

Zhong Lin, Xiaofen Feng, Liya Zheng, Nived Moonasar, Lijun Shen, Ronghan Wu, Feng Chen
Wichtige Hinweise
Electronic supplementary material
Abstract
Background
Endophthalmitis is a rare but severe complication following PPV. The incidence of endophthalmitis varies between 20-gauge, 23-gauge, and 25-gauge incisions. The incidence and clinical features of endophthalmitis after 23-gauge PPV in an eye hospital in China was reported in this study.
Methods
Data of the eyes that underwent 23-gauge PPV from January 2011 to December 2014 at the Eye Hospital of Wenzhou Medical University was retrospectively collected. All the information was obtained from the electronic medical system. The exclusion criteria included: (1) preoperative diagnosis of endophthalmitis; (2) history of vitrectomy; (3) intraocular surgery within 6 months; (4) history of ocular penetrating trauma; (5) sutures for any of the 3 sclerotomy incisions; (6) patients with cancer, acquired immune deficiency syndrome, or taking drugs that may influence the immune system. The diagnosis of endophthalmitis was based on clinical characteristics and/or culture results from an operative sample.
Results
Three thousand nine hundred seventy nine eyes that underwent 23-gauge PPV surgery were included in this study. Among these eyes, 3 eyes developed endophthalmitis after surgery, giving an incidence of 0.075% (3/3979). The period in which endophthalmitis developed ranged from 1 to 5 days post-operation. The visual acuity decreased to hand motions or light perception postoperatively. The culture of aqueous and vitreous of the 2 eyes revealed
Staphylococcus epidermidis
and
enterococcus faecalis
respectively, however was negative for the third eye. All 3 eyes had a favorable response to the treatment of vitreous tap and intravitreal antibiotics injection. Two eyes gained visual acuity of 0.05 and 0.5, respectively at the final visit.
Conclusions
Endophthalmitis is a rare but sight-threatening complication after 23-gauge pars plana vitrectomy. The peak duration of onset was within 5 days post-operation, with gram positive cocci being the common pathogenic organism.