01.12.2015 | Research article | Ausgabe 1/2015 Open Access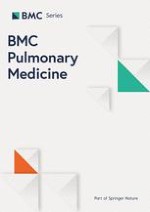 Incidental gastrointestinal 18F-Fluorodeoxyglucose uptake associated with lung cancer
Zeitschrift:
Autoren:

Juliette Vella-Boucaud, Dimitri Papathanassiou, Olivier Bouche, Alain Prevost, Thibault Lestra, Sandra Dury, Hervé Vallerand, Jeanne-Marie Perotin, Claire Launois, Louis Boissiere, Mathilde Brasseur, François Lebargy, Gaëtan Deslee
Wichtige Hinweise
Competing interests
The authors declare that they have no competing interests.
Authors' contributions
JVB assessed all PET/CT reports, analysed data concerning GIT investigations and final diagnosis of incidental GIT findings, participated in the design, analysis, interpretation of data and performed statistical analysis. DP reviewed all 18F-FDG PET/CT examinations demonstrating GIT uptake to determine SUV. TL reviewed CT. GD and FL conceived of the study. GD participated in design, coordination and helped to draft the manuscript. OB, AP and HV helped to draft the manuscript. All authors (JVB, DP, OB, AP, LT, SD, HV, JMP, CL, LB, MB, FL, and GD) participated in design, read and approved the final manuscript.
Abstract
Background
F-Fluorodeoxyglucose positron emission tomography/computed tomography (18F-FDG PET/CT) is increasingly used for the initial staging and restaging of lung cancer. Incidental gastrointestinal findings are often observed on 18F-FDG PET/CT. The objective of this study was to assess incidental 18F-FDG uptake by the gastrointestinal tract (GIT) in patients with lung cancer.
Methods
Two hundred thirty consecutive 18F-FDG PET/CT examinations performed for lung cancer over a 3-year period were retrospectively reviewed for the presence of incidental FDG uptake in the GIT. The charts of patients with positive FDG uptake were then reviewed and analysed to determine the GIT uptake sites, the standardized uptake value (SUV) max and the final clinical diagnosis.
Results
Fifty-two patients (52/230, 23 %) demonstrated incidental FDG uptake in the GIT. Thirty-three patients (63.5 %) had diffuse uptake (oesophagus,
n
 = 2, colon,
n
 = 31) and 19 patients (36.5 %) had focal uptake (oesophagus,
n
 = 1, small bowel,
n
 = 1, ascending colon,
n
 = 5, descending colon,
n
 = 4, sigmoid,
n
 = 4, rectum,
n
 = 3, and anal margin,
n
 = 1). Twelve of the 52 patients with GIT uptake were further investigated, revealing, a diagnosis of malignancy in 4 patients with focal FDG uptake. No significant differences in mean SUVmax were observed between patients with malignant and benign GIT diseases.
Conclusion
This study demonstrates a high incidence of FDG uptake in the GIT associated with lung cancer. Focal GIT uptake was frequently associated with malignant disease. These results suggest that further GIT investigations should be performed in patients with focal GIT uptake.