09.09.2019 | Commentary | Ausgabe 4/2019 Open Access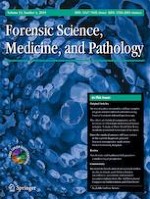 Inconsistent classification of unexplained sudden deaths in infants and children hinders surveillance, prevention and research: recommendations from The 3rd International Congress on Sudden Infant and Child Death
Zeitschrift:
Autoren:

Richard D. Goldstein, Peter S. Blair, Mary Ann Sens, Carrie K. Shapiro-Mendoza, Henry F. Krous, Torleiv O. Rognum, Rachel Y. Moon, The 3rd International Congress on Sudden Infant and Child Death
Wichtige Hinweise
Publisher's note
Springer Nature remains neutral with regard to jurisdictional claims in published maps and institutional affiliations.
Abstract
This report details the proceedings and conclusions from the 3rd International Congress on Unexplained Deaths in Infants and Children, held November 26–27, 2018 at the Radcliffe Institute at Harvard University. The Congress was motivated by the increasing rejection of the diagnosis Sudden Infant Death Syndrome (SIDS) in the medical examiner community, leading to falsely depressed reported SIDS rates and undermining the validity and reliability of the diagnosis, which remains a leading cause of infant and child mortality. We describe the diagnostic shift away from SIDS and the practical issues contributing to it. The Congress was attended by major figures and opinion leaders in this area from countries significantly engaged in this problem. Four categories (International Classification of Diseases (ICD)-11 categories of MH11, MH12, MH14, PB00-PB0Z) were recommended for classification, and explicit definitions and guidance were provided for death certifiers. SIDS was reframed as unexplained sudden death in infancy or SIDS/MH11 to emphasize that either term signifies the lack of explanation following a rigorous investigation. A distinct category for children over the age of 1 was recommended (MH12). Definitions and exclusions were provided for the alternative categories of accidental asphyxia and undetermined. As recommended, unexplained sudden death in infancy or SIDS on a death certificate will code a unique, trackable entity, accurately reflecting the inability to determine a definitive explanation, while satisfying surveillance needs and reliable identification for research efforts. The conclusions will be submitted to the World Health Organization for inclusion in the upcoming ICD-11.