09.10.2020 | Original Article | Ausgabe 3/2021 Open Access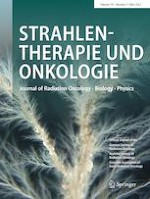 Incorporating dose–volume histogram parameters of swallowing organs at risk in a videofluoroscopy-based predictive model of radiation-induced dysphagia after head and neck cancer intensity-modulated radiation therapy
Zeitschrift:
Autoren:

Stefano Ursino, Alessia Giuliano, Fabio Di Martino, Paola Cocuzza, Alessandro Molinari, Antonio Stefanelli, Patrizia Giusti, Giacomo Aringhieri, Riccardo Morganti, Emanuele Neri, Claudio Traino, Fabiola Paiar
Wichtige Hinweise
The authors Stefano Ursino and Alessia Giuliano contributed equally to the manuscript.
Introduction
In this regard, the purpose of this research was to obtain a VF-based predictive model for RID based upon our abovementioned study by introducing SWOARs into the dose–volume histogram (DVH) analysis and by using a machine learning approach. In particular, the aims of this work were: 1) to design a classification framework to predict, with good performance, the onset of dysphagia from the DVHs of SWOARs; 2) to develop a predictive model of RID using a machine learning approach; 3) to identify the most important SWOARs and dosimetric features implicated in RID in order to guide treatment planning optimization.
Materials and methods
Results
Between June 2012 and October 2015, 39 patients with nasopharyngeal (
n
 = 10) and oropharyngeal (
n
 = 29) cancer were enrolled in our study. 38 were eligible for the evaluation of the study, as 1 patient died due to cardiovascular disease at 4 months after treatment. Of the 38 eligible patients, 36 and 30 patients underwent VF at 6 and 12 months, respectively. The summaries of baseline patient and tumor characteristics and treatment details are reported elsewhere [
7
]. Among the 38 evaluable patients, 7 (18%) experienced a locoregional recurrence (6 local and 1 both local and regional), of whom 5 underwent subsequent metastatic progression (4 lung and 1 bone metastasis). Contrastingly, 2 patients (1 nasopharynx and 1 base of tongue) experienced distant metastases progression without locoregional evidence of recurrence.
P was found in 6/36 patients (17%) and A in 5/36 patients (14%) at 6 months after treatment, and in 6/30 patients (20%) and 3/30 patients (10%), respectively, at 12 months after treatment. Among these patients, only 1 (3%) experienced clinical aspiration pneumonia which required hospitalization, protective tracheostomy, and antibiotic therapy.
Among the 11/36 patients (30.5%) who developed RID at 6 months, 6 patients (55%) still persisted at 12 months, 4 patients (36%) did not receive the exam at 12 months, whereas only 1 (9%) developed RID at 12 months and not at 6 months after treatment.
Feature analysis with machine learning methods
In this study, dose distribution features of SWOARs were used as predictor variables in three supervised learning methods: linear-kernel SVC, LRC, and RFC. Patients were grouped on the basis of P/A patterns at 6 and 12 months: class label was set to 0 in case of normal deglutition and to 1 if the event of P or A occurred. Hence, two binary classifications were designed: at 6 months 0 vs 1 0 (number of patients [
N
] = 25) vs. 1 (
N
 = 10) and at 12 months 0 vs. 1 0 (
N
 = 20) vs. 1 (
N
 = 9). In order to avoid scale-related dominance, each column of the predictor data was centered and scaled by the column mean and standard deviation, respectively.
The mean doses to SWOARs for patients grouped on the basis of P/A at 6 and at 12 months are summarized in Table
1
.
Table 1
Mean doses of SWOARs for all patients based on the occurrence of RID (group 0 = normal swallowing vs. group 1 = penetration or aspiration) at 6 and 12 months after treatment
SWOARs

P/A 6 months

P/A 12 months

Group 0

Group 1

Group 0

Group 1

Mean ± SD (range), Gy

Mean ± SD (range), Gy

Mean ± SD (range), Gy

Mean ± SD (range), Gy

53 ± 15 (13–66)

61 ± 4 (53–67)

52 ± 16 (13–66)

57 ± 12 (29–67)

49 ± 10 (30–62)

61 ± 4 (54–67)

48 ± 10 (30–61)

62 ± 5 (50–67)

40 ± 13 (20–61)

53 ± 9 (39–67)

37 ± 13 (20–61)

56 ± 8 (42–67)

45 ± 14 (20–68)

56 ± 10 (40–68)

44 ± 15 (20–68)

59 ± 11 (38–68)

37 ± 14 (16–63)

47 ± 9 (37–67)

35 ± 14 (18–63)

51 ± 9 (38–67)

37 ± 12 (17–58)

48 ± 8 (38–61)

35 ± 12 (17–55)

51 ± 8 (40–61)

24 ± 11 (2–42)

34 ± 10 (23–50)

23 ± 11 (2–42)

36 ± 9 (26–50)

52 ± 10 (30–64)

63 ± 2 (60–67)

50 ± 10 (30–64)

62 ± 4 (55–67)

25 ± 8 (9–41)

30 ± 5 (22–37)

24 ± 8 (9–42)

30 ± 6 (22–39)
The classifiers were trained according to the LOO-CV procedure, thus excluding one subject from the training set at each iteration and validating the trained model on it. Using this method it was possible to estimate AUC in cross-validation as a unique classification performance index. The range of AUC values for each classifier and for two subgroups at 6 and at 12 months was estimated with nested LOO-CV.
The relevance of SWOAR DVH features in predicting RID emerged both at 6 and 12 months. At 6 months AUC was 0.82 with SVC (range [0.80–0.92]), 0.80 with LRC (range [0.74–0.88]), and 0.83 with RFC (range [0.79–0.93]). Moreover, at 12 months AUC was equal to 0.85 with SVC (range [0.82–0.95]), 0.82 with LRC (range [0.76–0.95]), and 0.94 with RFC (range [0.91–0.99]). The ROC curves for all the classifiers are reported in Figs.
1
and
2
.
×
×
The application of LRC allows the estimation of logistic regression bias and parameters useful to obtain an NTCP model of radiation-induced dysphagia. Here, the model is multivariate and depends simultaneously on many dose–volume variables computed for a set of SWOARs (a total of 72 features). The model is given by the following: NTCP = e
f
/ (1 + e
f
), where f = β
0
 + sum
i
(β
i
x
i
), where β
0
is the bias, and β
i
is the estimated coefficient for the variable x
i
, centered and scaled. The quality of the model was evaluated by computing AUC with LOO-CV by combining the prediction results from the
N
logistic regression classifiers.
Feature importance analysis
To understand which of the 72 characteristics are the most relevant in P/A subgroup discrimination, an OOB permutation algorithm was implemented both at 6 and at 12 months. A number of 10,000 iterations was set and the results are shown in Figs.
3
and
4
, where the features with an estimated importance >0.1 are reported. The SWOARs and the corresponding features with the highest relevance level in predicting RID at 6 months were the BOT (V65 and D
mean
), SPCM (D
mean
), MPCM (V45, V55, V65, D
mp
, D
mean
, D
max
, and D
min
), and PGs (D
mean
and D
mp
). On the contrary, of highest importance at 12 months were MPCM (V55, D
min
and D
mean
), IPCM (V55, V65, D
min
, and D
max
) together with GL (V55 and D
max
), CPM (D
max
) and EC (D
max
).
×
×
Discussion
The purpose of this study was to provide a predictive model of RID based on VF findings at 6 and 12 months on naso- and oropharyngeal patients after definitive RT or RTCT using data from a prospective study conducted in our institution between June 2012 and July 2015.
Last but not least, we would like to point out the considerable potential of a machine learning methodology. This new approach builds upon NTCP models based on the combination of multiple dose metrics for different organs at risk. These are considered as a unique object rather than as a standard approach, in which dose values for each organ at risk are taken separately. If so, these NTCP models could be used in daily practice for treatment planning optimization and clinical decision support. We believe that this approach should be applied in radiation oncology research when the occurrence of an organ dysfunction, similarly to RID, is related to the damage of several rather, than just one, functional structures that differently concur in physiological processes.
Conclusion
In this study we began to lay the foundations for a future investigation of the relevance of the different SWOARs in the occurrence of RID. Our results highlight a major critical role of the impairment of BOT and PGs for early RID, and of IPCM, CPM, GL, and CE for late RID. Also, a crucial role seems to be played by MPCM both for early and late RID, maybe due to its anatomical location between upper and lower HN region that makes it difficult to be spared for tumors located in upper HN region.
Therefore, we would like to draw the attention of the clinicians to the abovementioned SWOARs, several of which have been poorly considered until recently and are worth further investigating in clinical research.
Compliance with ethical guidelines
Conflict of interest
Travel, congress, and course grants (Merck Serono, Nestlè, Kyowakirin, Astra Zeneca) have to be declared for S. Ursino. Travel, congress, and course grants (Merck Serono, Nestlè, Kyowakirin, Varian, Astra Zeneca) have to be declared for F. Paiar. A. Giuliano, F.D. Martino, P. Cocuzza, A. Molinari, A. Stefanelli, P. Giusti, G. Aringhieri, R. Morganti, E. Neri, and C. Traino declare that they have no competing interests.
Ethical standards
All procedures performed in studies involving human participants were in accordance with the ethical standards of the institutional and/or national research committee and with the 1964 Helsinki declaration and its later amendments or comparable ethical standards.
Consent to participate:
informed consent was obtained from all individual participants included in the study.
Consent for publication:
the authors affirm that human research participants consent for the publication of their data.
Open Access
This article is licensed under a Creative Commons Attribution 4.0 International License, which permits use, sharing, adaptation, distribution and reproduction in any medium or format, as long as you give appropriate credit to the original author(s) and the source, provide a link to the Creative Commons licence, and indicate if changes were made. The images or other third party material in this article are included in the article's Creative Commons licence, unless indicated otherwise in a credit line to the material. If material is not included in the article's Creative Commons licence and your intended use is not permitted by statutory regulation or exceeds the permitted use, you will need to obtain permission directly from the copyright holder. To view a copy of this licence, visit
http://​creativecommons.​org/​licenses/​by/​4.​0/​
.