01.12.2017 | Research article | Ausgabe 1/2017 Open Access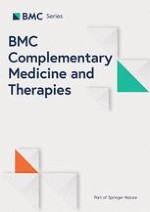 Increase of glutathione, testosterone and antioxidant effects of
Jurenia dolomiaea

on CCl4 induced testicular toxicity in rat
Zeitschrift:
Autoren:

Naseer Ali Shah, Muhammad Rashid Khan
Abstract
Background
Root of
Jurenia dolomiaea
is used traditionally in various disorders involving oxidative injuries i.e. rheumatism, gout and as stimulant. Earlier we have investigated in vitro antioxidant and DNA protective ability. In this investigation we have evaluated protective potential of
J. dolomiaea
root against the oxidative injuries induced with carbon tetrachloride (CCl
4
) in testes of rat.
Methods
Dried roots of
J. dolomiaea
were powdered and extracted with 95% methanol and residue was fractionated in escalating polarity of solvents. On the basis of potent antioxidant ability; the ethyl acetate fraction (JDEE) was selected to evaluate the in vivo antioxidant activity against CCl
4
induced oxidative stress in rat. Sprague Dawley male rats (42) were equally divided in to 7 groups: control, vehicle control, JDEE (400 mg/kg; p.o.) alone, CCl
4
(I ml/kg; 1:10
v
/v in olive oil) alone, JDEE (200 mg/kg, 400 mg/kg) with CCl
4
, and silymarin (200 mg/kg) with CCl
4
on alternate days for 60 days. Testes samples were investigated for antioxidant enzymes, biochemical markers and histopathology while the serum samples were analyzed for the testosterone level.
Results
Administration of CCl
4
to rats depleted the activity level of antioxidant enzymes viz.; CAT, POD, SOD, GST, GPx, and GR, and the concentration of protein and GSH while enhanced the level of lipid peroxides (TBARS), H
2
O
2
and nitrite in testes samples of rat. Concentration of testosterone in serum of rat decreased with CCl
4
treatment. Co-treatment of silymarin and the JDEE (200 mg/kg, 400 mg/kg) lessened the toxic effects of CCl
4
and reversed the level of these parameters towards the control group. An admirable increase (
P
< 0.05) in the level of GSH in testes, testosterone in serum and thickness of germinal layers in testes with JDEE (400 mg/kg) alone was recorded. Histopathological observation of testes samples endorsed the alterations induced with different treatments.
Conclusions
JDEE co-treatment to rats ameliorated the toxic effects of CCl4 in testes samples. Enhanced level of GSH, thickness of germinal layers in testes and testosterone in serum with JDEE (400 mg/kg) treatment alone to rats demanded the evaluation of JDEE for sexual behavior.