01.12.2018 | Research | Ausgabe 1/2018 Open Access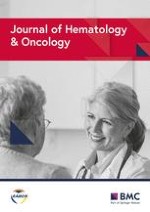 Increased B3GALNT2 in hepatocellular carcinoma promotes macrophage recruitment via reducing acetoacetate secretion and elevating MIF activity
Zeitschrift:
Autoren:

Tianxiao Yang, Yilin Wang, Wenjuan Dai, Xixi Zheng, Jing Wang, Shushu Song, Lan Fang, Jiangfan Zhou, Weicheng Wu, Jianxin Gu
Wichtige Hinweise
Electronic supplementary material
Background
Hepatocellular carcinoma (HCC) ranks as the sixth most prevalent cancer and the third leading cause of tumor-related death [
1
,
2
]. Despite huge developments in HCC diagnosis and treatment, 5-year survival rates of most HCC patients remain dismal [
3
]. Therefore, it is urgently needed to discover efficient markers and therapeutic targets for HCC. Emerging evidence has proven that abnormal glycosylation in HCC is closely associated with cancer progression. Some glycosylation modifications have been reported to promote HCC tumor growth, angiogenesis, and metastasis, and some of them are capable of predicting the prognosis of HCC patients [
4
]. However, due to instability of this glycosylation and the specialized equipment required for detection, it is still hard to use these as rapid markers for clinical application. Abnormal glycosylation usually results from aberrant expression of glycosyltransferases that are relatively stable in tissues and easy to detect [
4
,
5
]. Therefore, some of them like
N
-acetylglucosaminyltransferase V (GnT-V),
N
-acetylglucosaminyltransferase III (GnT-III), and α1-6 fucosyltransferase (a1-6FT) have been used as tumor markers and therapeutic targets in HCC [
6
–
9
].
Macrophages originate from immature monocyte in the bone marrow and migrate throughout the entire body through the circulation. Final differentiation occurs in tissues to form macrophages, including Kupffer cells which are found in the liver. It is already known that all kinds of macrophages coexist in tumors, but recruited macrophages may account for the majority of tumor-associated macrophages (TAMs). Peripheral blood monocytes from the bone marrow are recruited and differentiate into TAMs in response to chemokines and growth factors in the tumor microenvironment [
10
,
11
]. TAMs promote solid tumor development through providing factors which can establish a pre-malignant niche and enhance metastasis. TAMs may also play a role in forming pre-metastatic niches in organs where the tumor will eventually metastasize [
12
]. There is also evidence that TAMs are closely associated with formation of stem-like cells in human cancers [
13
]. Dysregulation of glycosyltransferases has been reported to regulate the functions of TAMs [
14
], but whether some glycosyltransferases influence TAM recruitment remains to be elucidated.
β-1,3-
N
-acetylgalactosaminyltransferase II (B3GALNT2) belongs to the β-1,3-glycosyltransferases (b3GT) family, consisting of β-1,3-galactosyltransferases (B3GALT), β-1,3-
N
-acetylglucosaminyltransferases (B3GNT), and β-1,3-
N
-acetylgalactosaminyltransferases (B3GALNT). B3GALNT2 efficiently adds
N
-acetylgalactosamine (GalNAc) on both N-glycans and O-glycans by β-1,3-linkage and generates GalNAcb1 → 3GlcNAcb1-R structure [
15
]. B3GALNT2 has been reported to regulate the development of both normal tissues and tumor tissues [
16
]. Upregulation of B3GALNT2 in breast cancer predicts poor prognosis [
17
]. Since knockdown of B3GALNT2 in zebrafish leads to degeneration of the extracellular matrix [
16
], B3GALNT2 might also exert functions in cancer progression via altering secretion or remodeling the extracellular environment. However, studies on the functions of B3GALNT2 are quite limited. Whether and how B3GALNT2 functions in HCC remain to be elucidated.
In this study, we investigated expression of B3GALNT2 in HCC and analyzed its potential role in HCC progression. Our study also determined how B3GALNT2 remodels the tumor microenvironments to promote tumor growth.
Methods
Hepatocellular carcinoma patient samples
Usage of human pathological tissues and clinical data was approved by the Ethics Committee at the Shanghai Cancer Center of Fudan University (Shanghai, China; approval no. 050432-4-1212B). Written consent for all patients conformed to the ethical guidelines of the Helsinki Declaration. A total of 139 patients with primary HCC resected between 2010 and 2012 in the Department of Hepatic Surgery, Shanghai Cancer Center of Fudan University (Shanghai, China) were collected. None of the patients had received pre-operative therapy. Clinical tumor stages were determined according to the TNM classification system of International Union against Cancer. Follow-up was done until December 9, 2016. These patients were followed every 3 months. The median follow-up was 33.3 months (ranging from 0.8 to 60.4 months). Among all of the primary tumor specimens, 24 were used for Western blot and quantitative real-time PCR assays.
Cell culture
All HCC cell lines, human THP1 cells, and mouse RAW264.7 cells were obtained from the Cell Bank of Type Culture Collection of the Chinese Academy of Sciences (Shanghai, China) and cultured in Dulbecco's Minimum Essential Medium (DMEM) supplemented with 10% fetal bovine serum at 37 °C in a humidified atmosphere containing 5% CO2. Fetal bovine serum and DMEM culture media were purchased from Sigma (St. Louis, MO, USA). The THP1 cell line was maintained in RPMI 1640 medium supplemented with 10% FBS and 2 mmol/L L-glutamine. THP1 cells were differentiated using 200 nM phorbol-12-myristate-13-acetate (PMA, Sigma-Aldrich) for 3 days.
Plasmid construction
The cDNA encoding B3GALNT2 was obtained by PCR and was inserted into the pCMV-Flag vector (Sigma, St. Louis, MO, USA). The sequence of the shRNA inserted in the pENTR vector (Thermo, USA) was as follows: B3GALNT2: 5′-CACCGGTCATATAATTGTGTGTTTACGAATAAACACACAATTATATGACC-3′, BDH2: 5′-CACCGGAACAGTTGATACGCCATCTCGAAAGATGGCGTATCAACTGTTCC-3′, and MIF: 5′-TCGAGGACACCAACGTGCCCCGCGCTTCAAGAGAGCGCGGGGCACGTTGGTGTCTTTTTTA-3′. Transfections were performed with Lipofectamine 3000 (Life Technologies, CA, USA), according to the manufacturer's instructions. Stable cell lines were generated with G418 (200 μg/mL) in the medium.
Cell viability assay
Cell viability was quantified with a Cell Counting Kit-8 (CCK-8) (Dojindo, Japan), according to the manufacturer's instructions. The cells were plated at a density of 3000 cells per well in 96-well plates. The CCK-8 assays were assessed by measuring the absorbance at 450 nm.
Cell cycle and apoptosis assay
Cycle arrest and apoptotic cells were detected by flow cytometric analysis. Cells were collected by trypsinization and washed twice with PBS. For cell cycle assay, the collected cells were stained with propidium iodide (PI) using a Cell Cycle Staining Kit (Lianke Bio, Hangzhou, China). Cellular apoptosis was determined using PE Annexin-V Apoptosis Detection Kit I (BD Biosciences, CA, USA). Stained cells were assessed by flow cytometry and the data were analyzed by FlowJo software (TreeStar, Ashland, OR, USA).
Transwell assay
Transwell invasion was assessed using 8-μm transwell filters (Milliporem, Billerica, MA, USA) in a 12-well plate. The bottom of the transwell chamber was coated with BD Matrigel Basement Membrane Matrix (BD Biosciences, San Diego, CA, USA). Macrophages were added into the upper chamber containing basic culture medium without serum, and the lower chamber was filled with HCC tumor cell lines in serum-free culture medium. Macrophage infiltration was determined 48 h later. Cells on the upper side of the chamber were removed from the surface of the membrane by scrubbing, and cells on the lower surface of the membrane were fixed with 4% paraformaldehyde and stained with 0.1% crystal violet. The number of infiltrating cells was counted in five randomly selected microscopic fields of each filter.
Western blotting
HCC tissues and cells were homogenized in SDS sample buffer (10% glycerol, 2% SDS, 0.01% bromophenol blue, 1.25% 2-beta-mercaptoethanol, 25 mM Tris–HCl, pH 6.8) with ULTRA-TURRAX (IKA, Germany) at 4 °C. Protein concentration was determined using the Quick Start™ Bradford protein assay kit (Bio-Rad, USA). Ten micrograms of total protein extracts was loaded in 10% SDS-PAGE and transferred to 0.45-μm PVDF membranes (Millipore, USA) using an electro-blotting apparatus (Bio-Rad, USA). Anti-B3GALNT2, anti-BDH2, and anti-GAPDH antibodies were purchased from Proteintech. The Immobilon™ Western Chemiluminescence HRP substrate kit (Millipore, USA) was used for chemiluminescence. Images were obtained with the ImageQuant™ LAS-4000 (Amersham Biosciences, GE, USA) and quantified using the ImageQuant™ TL software (version 7.0, Amersham Biosciences, GE, USA).
Quantitative real-time PCR
Total RNA of the samples was purified using TRIzol (Invitrogen, Carbad, CA, USA) and then reverse-transcribed to cDNA using the PrimeScript RT reagent kit (Takara, Tokyo, Japan). Real-time PCR was performed with cDNA production using SYBR Premix Ex Taq (Takara, Tokyo, Japan) on an ABI StepOne Plus (Applied Biosystems, USA) instrument. GAPDH was used as an internal control. Primers used in this study are listed as follows: B3GALNT2 forward: GATGTGGTAGTTGGCGTGTTG, reverse: CGTTGACTTAATGTGGGATGCTG, GAPDH forward: GAGTCAACGGATTTGGTCGT, reverse: TTGATTTTGGAGGGATCTCG, BDH2 forward: GCTTCCA GCGTCAAAGGAGTT, reverse: CAGTTGCGAATCTTCCCGTC, MIF forward: TACACCCAGACCAAATGATG, reverse: TTCTCCTAATGCTCCAATACTG.
Immunohistochemistry
Immunohistochemistry (IHC) tests on tissue microarray and paraffin sections were performed using a Dako REAL EnVision Detection System (Dako, Denmark) following the protocol recommended, and hematoxylin was used for counterstaining. Anti-B3GALNT2, anti-CD206, anti-F4/80, and anti-CD68 antibody were used to quantify relative expression levels. Immunohistochemical scoring was determined as previously described [
18
]. The staining intensity was scored as 0 for negative, 1 for weak, 2 for moderate weak, 3 for moderate strong, and 4 for strong. The score for the stained area was set as 0 for 0–33%; 1, 33–66%; and 2, 66–100%. The final staining score was obtained by multiplying the staining intensity score by the staining area score, and the results are a series of numbers ranging from 0 to 8.
ELISA
MIF, CSF1, CCL2, VEGF, and MIP-1α in the culture supernatants of HCC cell lines were measured using ELISA kits (R&D Systems). The culture supernatants of the cells were collected and centrifuged at 500×
g
for 5 min to remove cellular debris. The ELISA was performed according to the manufacturer's instructions.
Protein and small molecule components were separated using a 3-kDa ultrafiltration tube purchased from Millipore. Fraction containing small molecules (< 3 kDa) was collected from the residual liquid at the first ultrafiltration. The concentrated fraction (> 3 kDa) was further washed three times using PBS and finally concentrated in PBS.
MIF tautomerase activity assay
The tautomerase activity of MIF in the medium was detected as previously described with minor modifications [
19
]. Phenylpyruvate could be conversed from enol- to keto- type by MIF, and this reaction was monitored by the decrease of absorbance at 288 nm on a spectrophotometer at room temperature. The assay mixture contained 50 mM sodium-phosphate buffer (pH 6.5) and a series of diluted MIF-containing culture medium. The assay was initiated by addition of ethanol-diluted phenylpyruvic acid with final concentration of 100 μm. Absorbance values for each group were normalized with the control group that contained buffer and fresh DMEM medium, thus yielding the relative percent of enzyme activity. For acetoacetate addition, 10 μM lithium acetoacetate was used. All the chemicals were purchased from Sigma (St. Louis, MO, USA).
For MIF inhibition,
N
-acetyl-p-benzoquinone (NAPQI) was purchased from Sigma (St. Louis, MO, USA), and it could inhibit 96% of MIF by incubating with cells for 5 min at 200 μM as previously reported [
20
].
Animal models
All animal experiments were approved by the research medical ethics committee of Fudan University (Shanghai, China; approval no. 170013-0056) and were performed in accordance with the approved guidelines. Nude mice were purchased from the Shanghai Laboratory Animal Center of Chinese Academy Sciences (Shanghai, China) and were housed in individual ventilated cages. All of the mice were randomly grouped (
n
 = 6 in each group).
For the subcutaneous xenograft model, Huh7-luc cells were resuspended in PBS (5 × 106/mouse) and subcutaneously inoculated into the axillaries of 4-week-old male nude mice. The mice were sacrificed after 4 weeks, and tumor tissues were harvested and weighted. For the orthotopic translation model, tumors from xenograft models were separated and chopped in PBS at 4 °C. The diameter of each fragment was modified to 1 mm. The fragments were then transplanted into nude mice in the left lobes of the liver. Bioluminescent imaging was performed with an IVIS200 (Xenogen, Caliper, CA) 10 min after intraperitoneal injection of luciferin (3 mg/mouse) (Promega, WI, USA). The intensity of luciferase signals was quantified using ROI analysis.
Metabolomics analysis
For metabolomics analysis, 7402-B3GALNT2 and 7402-control cells were cultured to 80% confluence and the medium was removed, followed by washing the cells with ice-cold PBS. The cells were then collected into tubes with PBS by scraping. For targeted metabolomics analysis, the culture medium was changed to serum-free medium 2 h before metabolite collection. Metabolite fractions of the culture media were collected and analyzed by targeted LC-MS/MS. LC-MS analysis was performed as described previously [
21
].
An ACQUITY UHPLC System (Waters Corporation, Milford, USA) coupled with an AB SCIEX Triple TOF 5600 System (AB SCIEX, Framingham, MA) was used to analyze the metabolic profiling. An ACQUITY UPLC BEH C18 column (1.7 μm, 2.1 × 100 mm) was employed with a binary gradient method. Data acquisition was performed in full scan mode (m/z ranges from 70 to 1000) combined with information-dependent acquisition (IDA) mode. For IDA analysis, range of m/z was set as 50–1000 and the collision energy was 30 eV. The QCs were injected at regular intervals (every eight samples) throughout the analytical run to provide a set of data from which repeatability could be assessed.
The raw data were converted to common data format (mzML) files using a conversion software program MSconventer. Metabolomics data were acquired using software XCMS 1.50.1 version, which produced a matrix of features with the associated retention time, accurate mass, and chromatographic separation. The positive and negative data were combined to get a combined data set which was imported into the SIMCA software package (version 14.0, Umetrics, Umea, Sweden). Principal component analysis (PCA) was carried out to visualize metabolic alterations among experimental groups, after mean centering and unit variance scaling. The differential metabolites were selected on the basis of
p
values from a two-tailed Student's
t
test on the normalized peak areas, where metabolites with
p
values less than 0.05 were included. A reference material database built by the Dalian Institute of Chemical Physics, Chinese Academy of Sciences and Dalian ChemData Solution Information Technology Co., Ltd., HMDB, and METLIN was used.
Statistical analysis
All analyses were performed with SPSS 13.0 (Chicago, IL, USA). Results were presented as the mean ± standard deviation with at least three replicates for each sample. Optimal cut-off values for B3GALNT2 expression were determined by ROC curve analysis. Pearson's chi-square test was used to identify the correlation between B3GALNT2 expression and other factors. Survival probability was determined by the Kalan-Meier curve, and the differences between groups were assessed by Log-rank test. Univariate and multivariate survival analyses were applied using Cox regression. Differences between groups were determined with Student's
t
test. Statistical significance was set at two tails
p
 < 0.05.
Results
Discussion
In this study, our data reveal that B3GALNT2 is upregulated in HCC, and this upregulation is associated with tumor growth and poor prognosis. Mechanistically, B3GALNT2 reduced the expression of some metabolic enzymes and thus downregulated the secretion of acetoacetate levels, which relieved the activity of MIF and enhanced macrophage recruitment. Finally, recruited macrophages promoted tumor growth.
Conclusions
In summary, this study evaluated B3GALNT2 as a tumor marker in HCC and revealed the role of B3GALNT2 in metabolism which transformed the microenvironment of HCC. Our mechanistic study also emphasizes critical roles for acetoacetate and macrophages in HCC tumor growth. Therefore, this study provides more evidence for an advantage of a ketogenic diet to treat HCC and suggests an approach for immunotherapeutic treatment of HCC. Further studies on the molecular mechanism of how B3GALNT2 regulates acetoacetate-related enzymes in HCC progression are required.
Acknowledgements
Not applicable.
Funding
This work was supported by grants from the National Basic Research Program of China (31630088), the National Natural Science Foundation of China (31501051), the Science Technology Commission of Shanghai Municipality (16142202600), Shanghai Municipal Commission of Health and Family Planning (201740023), and the "Fostering Project for Outstanding Young Talent" from Tongji University (2015KJ054).
Availability of data and materials
All data are fully available without restriction.
Ethics approval and consent to participate
Usage of human pathological tissues and clinical data was approved by the Ethics Committee at the Shanghai Cancer Center of Fudan University (Shanghai, China; approval no. 050432-4-1212B). Written consent for all patients conformed to the ethical guidelines of the Helsinki Declaration.
Consent for publication
Not applicable.
Competing interests
The authors declare that they have no competing interests.
Publisher's Note
Springer Nature remains neutral with regard to jurisdictional claims in published maps and institutional affiliations.
Open Access
This article is distributed under the terms of the Creative Commons Attribution 4.0 International License (
http://​creativecommons.​org/​licenses/​by/​4.​0/​
), which permits unrestricted use, distribution, and reproduction in any medium, provided you give appropriate credit to the original author(s) and the source, provide a link to the Creative Commons license, and indicate if changes were made. The Creative Commons Public Domain Dedication waiver (
http://​creativecommons.​org/​publicdomain/​zero/​1.​0/​
) applies to the data made available in this article, unless otherwise stated.