01.12.2012 | Original investigation | Ausgabe 1/2012 Open Access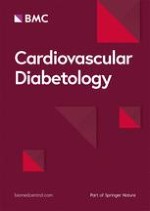 Increased blood glycohemoglobin A1c levels lead to overestimation of arterial oxygen saturation by pulse oximetry in patients with type 2 diabetes
Zeitschrift:
Autoren:

Li Jin Pu, Ying Shen, Lin Lu, Rui Yan Zhang, Qi Zhang, Wei Feng Shen
Wichtige Hinweise
Electronic supplementary material
The online version of this article (doi:
10.​1186/​1475-2840-11-110
) contains supplementary material, which is available to authorized users.
Li Jin Pu, Ying Shen contributed equally to this work.
Competing interests
The authors declare that they have no competing interests.
Authors' contributions
LJP designed the study and drafted the manuscript; YS collected the samples and performed the experiments; LL participated in the whole process of experiments; RYZ and QZ contributed to data analysis; WFS was responsible for the whole research project and prepared the manuscript. All authors have read and approved the final manuscript.
Abstract
Background
Non-enzymatic glycation increases hemoglobin-oxygen affinity and reduces oxygen delivery to tissues by altering the structure and function of hemoglobin.
Objectives
We investigated whether an elevated blood concentration of glycosylated hemoglobin (HbA1c) could induce falsely high pulse oximeter oxygen saturation (SpO2) in type 2 diabetic patients during mechanical ventilation or oxygen therapy.
Methods
Arterial oxygen saturation (SaO2) and partial pressure of oxygen (PO2) were determined with simultaneous monitoring of SpO2 in 261 type 2 diabetic patients during ventilation or oxygen inhalation.
Results
Blood concentration of HbA1c was >7% in 114 patients and ≤ 7% in 147 patients. Both SaO2 (96.2 ± 2.9%, 95% confidence interval [CI] 95.7-96.7% vs. 95.1 ± 2.8%, 95% CI 94.7-95.6%) and SpO2 (98.0 ± 2.6%, 95% CI 97.6-98.5% vs. 95.3 ± 2.8%, 95% CI 94.9-95.8%) were significantly higher in patients with HbA1c >7% than in those with HbA1c ≤ 7% (Data are mean ± SD, all p < 0.01), but PO2 did not significantly differ between the two groups. Bland-Altman analysis demonstrated a significant bias between SpO2 and SaO2 (1.83 ±0.55%, 95% CI 1.73% -1.94%) and limits of agreement (0.76% and 2.92%) in patients with HbA1c >7%. The differences between SpO2 and SaO2 correlated closely with blood HbA1c levels (Pearson's r = 0.307, p < 0.01).
Conclusions
Elevated blood HbA1c levels lead to an overestimation of SaO2 by SpO2, suggesting that arterial blood gas analysis may be needed for type 2 diabetic patients with poor glycemic control during the treatment of hypoxemia.