01.12.2017 | Research | Ausgabe 1/2017 Open Access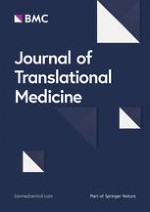 Increased CD127+ and decreased CD57+ T cell expression levels in HIV-infected patients on NRTI-sparing regimens
Zeitschrift:
Autoren:

A. Gonzalez-Serna, S. Ferrando-Martinez, L. Tarancon-Diez, R. S. De Pablo-Bernal, B. Dominguez-Molina, J. L. Jiménez, M. Á. Muñoz-Fernández, M. Leal, E. Ruiz-Mateos
Wichtige Hinweise
Electronic supplementary material
A. Gonzalez-Serna and S. Ferrando-Martinez contributed equally to this work
Abstract
Background
NRTIs-sparing regimens exert favourable profiles on T-cell homeostasis associated parameters. Our aim was to analyze the effect of NRTIs sparing regimen (NRTI-sparing-cART) vs NRTIs-containing regimen (NRTI-cART), on T-cell homeostasis associated parameters in naive HIV-infected patients.
Methods
Biomarkers of cell survival (CD127) and replicative senescence (CD57), were measured by multiparametric flow cytometry for T-cell phenotyping on peripheral blood mononuclear cells (PBMCs) samples just before (baseline) and after 48 weeks of undetectable viral load in patients on NRTI-sparing-cART (N = 13) and NRTI-cART (N = 14). After 48 weeks a subgroup of patients (n = 5) on NRTI-cART switched to NRTI-sparing-cART for another additional 48 weeks. In vitro assays were performed on PBMCs from HIV-uninfected healthy donors exposed or not to HIV. To analyze the independent factors associated with type of cART bivariate and stepwise multivariate analysis were performed after adjusting for basal CD4+, CD8+ and nadir CD4+ T-cell counts.
Results
After 48 weeks of a NRTI-sparing-cART vs NRTI-cART patients have higher effector memory (EM) CD4+ CD127+ T-cell levels, lower EM CD4+ CD57+ T-cell levels, higher CD8+ CD127+ T-cell levels, lower CD8+ CD57+ T-cell levels and higher memory CD8+ T-cell levels. This effect was confirmed in the subgroup of patients who switched to NRTI-sparing-cART. In vitro assays confirmed that the deleterious effect of a NRTIs-containing regimen was due to NRTIs.
Conclusions
The implementation of NRTI-sparing regimens, with a favourable profile in CD127 and CD57 T-cell expression, could benefit cART-patients. These results could have potential implications in a decrease in the number of Non-AIDS events.