01.11.2010 | Basic Research | Ausgabe 11/2010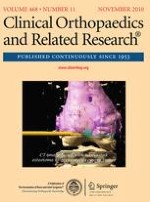 Increased Chondrocyte Death after Steroid and Local Anesthetic Combination
Zeitschrift:
Autoren:

MD Boglárka Farkas, MD, PhD Krisztián Kvell, MD, PhD Tamás Czömpöly, MD, PhD Tamás Illés, MD, PhD Tamás Bárdos
Wichtige Hinweise
One or more of the authors (TB) have received funding from the Mutual Foundation of the Ministry of Economy and European Union (GVOP Project 3.1.1-2004-05-0219/3.0), ETT National Scientific Committee for Health-related Researches, and the János Bolyai Research Fellowship and Research Foundation (OTKA 53065).
Each author certifies that his or her institution has approved the human protocol for this investigation, that all investigations were conducted in conformity with ethical principles of research, and informed consent for participation in the study was obtained.
Abstract
Background
Hyaline articular cartilage has limited repair and regeneration capacity. Intraarticular administration of glucocorticoid and local anesthetic injections play an important role in the therapy of osteoarthritis. Glucocorticoids and anesthetics reportedly enhance apoptosis in chondrocytes, but effects of the combined use of glucocorticoids and local anesthetics are unknown.
Questions/purposes
We asked whether glucocorticoid and local anesthetic agents combined had any synergistic effects on chondrocyte apoptosis.
Methods
Cell viability and apoptosis/necrosis assessment of human articular chondrocytes were performed in vitro (chondrocyte cell cultures) and ex vivo (osteochondral specimens) using flow cytometry and TUNEL analysis, respectively.
Results
Glucocorticoids and local anesthetics induce apoptosis in chondrocytes at various rates. When used in combination, the percentage of dead chondrocytes was increased in in vitro chondrocyte cell cultures and osteochondral ex vivo specimens.
Conclusions
We observed a time-dependent decrease in chondrocyte viability after concurrent steroid and local anesthetic exposure.
Clinical Relevance
The combination of glucocorticoids and local anesthetics has an adverse effect on articular chondrocytes, and it raises a question regarding whether concomitant administration should be used in treating osteoarthritis.