01.12.2017 | Research article | Ausgabe 1/2017 Open Access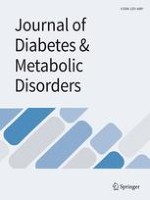 Increased circulatory levels of fractalkine (CX3CL1) are associated with inflammatory chemokines and cytokines in individuals with type-2 diabetes
Zeitschrift:
Autoren:

Sardar Sindhu, Nadeem Akhter, Hossein Arefanian, Areej Abu Al-Roub, Shamsha Ali, Ajit Wilson, Asma Al-Hubail, Shaima Al-Beloushi, Saad Al-Zanki, Rasheed Ahmad
Wichtige Hinweise
Electronic supplementary material
The online version of this article (doi:
10.​1186/​s40200-017-0297-3
) contains supplementary material, which is available to authorized users.
Abstract
Background
Fractalkine (CX3CL1) is involved in the development of numerous inflammatory conditions including metabolic diseases. However, changes in the circulatory fractalkine levels in type-2 diabetes (T2D) and their relationship with inflammatory chemokines/cytokines remain unclear. The aim of the study was to determine the T2D-associated modulations in plasma fractalkine levels and investigate their relationship with circulatory chemokines/cytokines.
Methods
A total of 47 plasma samples were collected from 23 T2D and 24 non-diabetic individuals selected over a wide range of body mass index (BMI). Clinical metabolic parameters were determined using standard commercial kits. Fractalkine and chemokines/cytokines were measured using Luminex X-MAP® technology. C-reactive protein (CRP) was measured by ELISA. The data were compared using unpaired
t
-test and the dependence between two variables was assessed by Pearson's correlation coefficient (r).
Results
Plasma fractalkine levels were significantly higher (P = 0.005) in T2D patients (166 ± 14.22 pg/ml) as compared with non-diabetics (118 ± 8.90 pg/ml). In T2D patients, plasma fractalkine levels correlated positively (P ≤ 0.05) with inflammatory chemokines/cytokines including CCL3 (r = 0.52), CCL4 (r = 0.85), CCL11 (r = 0.51), CXCL1 (r = 0.67), G-CSF (r = 0.91), IFN-α2 (r = 0.97), IL-17A (r = 0.79), IL-1β (r = 0.97), IL-12P70 (r = 0.90), TNF-α (r = 0.58), and IL-6 (r = 0.60). In non-diabetic individuals, fractalkine levels correlated (P ≤ 0.05) with those of CCL4 (r = 0.49), IL-1β (r = 0.73), IL-12P70 (r = 0.41), and TNF-α (r = 0.50). Notably, plasma fractalkine levels in T2D patients associated with systemic inflammation (CRP) (r = 0.65, P = 0.02).
Conclusions
The altered plasma fractalkine levels associate differentially with inflammatory chemokines/cytokines in T2D patients which may have implications for T2D immunopathogenesis.