01.12.2017 | Research article | Ausgabe 1/2017 Open Access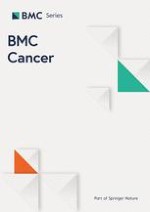 Increased ERCC1 expression is linked to chromosomal aberrations and adverse tumor biology in prostate cancer
Zeitschrift:
Autoren:

Frank Jacobsen, Billurvan Taskin, Nathaniel Melling, Charlotte Sauer, Corinna Wittmer, Claudia Hube-Magg, Martina Kluth, Ronald Simon, Dirk Pehrke, Burkhard Beyer, Thomas Steuber, Imke Thederan, Guido Sauter, Thorsten Schlomm, Waldemar Wilczak, Katharina Möller, Sören A. Weidemann, Susanne Burdak-Rothkamm
Wichtige Hinweise
Electronic supplementary material
The online version of this article (doi:
10.​1186/​s12885-017-3489-9
) contains supplementary material, which is available to authorized users.
Abbreviations
CHD1
Chromodomain-helicase-DNA-binding protein 1
ERCC1
Excision repair cross-complementation
ERG
Erythroblast transformation-specific (ETS) related gene
FISH
Fluorescence in situ hybridization
MAP3K7
Mitogen-activated protein kinase kinase kinase 7
NER
Nucleotide excision repair
PSA
Prostate specific antigen
PTEN
Phosphatase and tensin homolog
TMPRSS2
Transmembrane protease, serine 2
Background
Prostate cancer is the most common cancer in males in the western societies. While most patients will never suffer symptoms from their disease, prostate cancer is still the third most common cause of cancer related death of men in most Western countries [
1
]. The highly variable clinical course of the disease cannot be predicted reliably enough by currently available criteria such as Gleason grade, clinical stage and PSA value. Additional and better prognostic markers are needed to differentiate between aggressive high risk and non-aggressive low risk cancer subtypes in order to prevent unnecessary invasive treatments.
The DNA repair endonuclease ERCC1 (Excision Repair Cross-Complementation Group 1) catalyzes 5′ incision during nucleotide excision repair process (NER) [
2
,
3
]. ERCC1 has been described to be physiologically expressed in several tissues including skin, breast, intestine, testis, and ovary [
4
]. Overexpression of ERCC1 has been found in many cancer types such as urothelial carcinoma [
5
], head and neck squamous cell carcinoma [
6
] and non-small cell lung cancer [
7
]. For these entities it has been proposed that ERCC1 overexpression may serve as a prognostic and/or predictive tumor marker [
5
–
9
].
ERCC1 is of potential interest in prostate cancer. Experimental data from a mouse model system suggested an altered ERCC1 function as potential driver for an invasive prostate cancer phenotype [
10
]. Moreover, a specific nucleotide polymorphism of the ERCC1 gene was linked to prostate cancer aggressiveness in a Spanish cohort study of 494 men [
11
]. The present study evaluates the clinical impact of ERCC1 expression in human prostate cancer. For this purpose, a preexisting prostate cancer tissue microarray was examined for ERCC1 expression by immunohistochemistry.
Methods
Patients
Twelve thousand four hundred twenty seven prostatectomy specimens were obtained from consecutive patients treated between 1992 and 2012 in the Department of Urology and the Martini Clinics at the University Medical Center Hamburg-Eppendorf. Tumor stage, Gleason grade, nodal stage and the resection margin status were recorded. Classical Gleason categories and "quantitative" Gleason grading was performed as described [
12
]. Follow-up data were available for a total of 12,344 patients (median 36 months, range 1 to 241 months; Table
1
). Prostate specific antigen (PSA) recurrence was defined as a postoperative PSA of ≥0.2 ng / ml and increasing. All prostate specimens were embedded for histological analysis by a standard procedure [
13
]. The TMA was produced as described [
14
,
15
]. In brief, one 0.6 mm core sample was taken from a representative tissue block and distributed among 27 TMA blocks, each with 144 to 522 samples. Each TMA block contained various control and normal prostate tissue. The molecular database attached to this TMA contained results on ERG expression,
ERG
break apart FISH analysis [
16
], deletion status of 5q21 (
CHD1
) [
17
], 6q15 (
MAP3K7
) [
18
],
PTEN
(10q23) [
19
–
21
] and 3p13 (
FOXP1
) [
22
]).
Table 1
Pathological and clinical data of the arrayed prostate cancers
No. of patients (%)

Study cohort on TMA (

n

= 12,427)

Biochemical relapse among categories

Follow-up (mo)

n

11,665 (93.9%)

2769 (23.7%)

Mean

62.9

−

Median

50.0

−

Age (y)

≤50

334 (2.7%)

81 (24.3%)

51–59

3061 (24.8%)

705 (23%)

60–69

7188 (58.2%)

1610 (22.4%)

≥70

1761 (14.3%)

370 (21%)

Pretreatment PSA (ng/ml)

<4

1585 (12.9%)

242 (15.3%)

4–10

7480 (60.9%)

1355 (18.1%)

10–20

2412 (19.6%)

737 (30.6%)

>20

812 (6.6%)

397 (48.9%)

pT stage (AJCC 2002)

pT2

8187 (66.2%)

1095 (13.4%)

pT3a

2660 (21.5%)

817 (30.7%)

pT3b

1465 (11.8%)

796 (54.3%)

pT4

63 (0.5%)

51 (81%)

Gleason grade

≤3 + 3

2848 (22.9%)

234 (8.2%)

3 + 4

6679 (53.8%)

1240 (18.6%)

3 + 4 Tert.5

433 (3.5%)

115 (26.6%)

4 + 3

1210 (9.7%)

576 (47.6%)

4 + 3 Tert.5

646 (5.2%)

317 (49.1%)

≥4 + 4

596 (4.8%)

348 (58.4%)

pN stage

pN0

6970 (91%)

1636 (23.5%)

pN+

693 (9%)

393 (56.7%)

Surgical margin

Negative

9990 (81.9%)

1848 (18.5%)

Positive

2211 (18.1%)

853 (38.6%)
Immunohistochemistry
Newly cut sections of the complete TMA were stained on the same day in a single experiment. Slides were deparaffinized and antigen was retrieved by heat (5 min at 121 °C, pH 7.8 Tris-EDTA-citrate buffer). ERCC1 specific mouse monoclonal antibody clone UMAB8, BioCAT GmbH, Heidelberg; cat#UM500008; dilution 1:150) was applied at 37 °C for 60 min. Bound antibody was visualized with the EnVision Kit (Dako, Glostrup, Denmark). ERCC1 typically stained 100% tumor cell nuclei in a single tissue spot. Staining intensity was assessed semi-quantitatively as negative, weak, moderate and strong.
Statistics
Contingency tables were calculated to analyze associations between ERCC1 expression and clinico-pathological parameters. Chi-square (Likelihood) test was employed to identify significant relationships between these parameters. The F-test was used in analysis of variance to detect differences of the mean of groups. Kaplan-Meier curves were generated for the event of PSA recurrence free survival and the log-Rank test was applied to test for significant differences between stratified survival curves. The prognostic significance of pathological, molecular and clinical parameters was assessed by Cox proportional hazards regression analysis. All calculations were done with JMP® software (SAS Institute Inc., NC, USA).
Results
Discussion
Conclusions
In summary, elevated expression of ERCC1 is strongly linked to unfavorable tumor phenotype and PSA recurrence in prostate cancer. In this study, an association between ERCC1 overexpression and chromosomal aberrations (including both ERG fusion and deletions) was observed. These findings suggest overexpression of ERCC1 in the context of replication associated DNA damage repair, genomic instability and generation of structural chromosomal alterations.
Acknowledgements
The authors appreciate the excellent technical support of Christina Koop, Sylvia Schnöger and Sasha Eghtessadi.
Funding
No specific funding was received for this study.
Availability of data and materials
The datasets used and/or analysed during the current study are available from the corresponding author on reasonable request.
Ethics approval and consent to participate
The study was approved by the ethics committee Ärztekammer Hamburg (WF-049/09 and PV3652). According to local laws, informed consent was not required for this study (HmbKHG, §12,1). Patient records were anonymized and de-identified prior to analysis. All work has been carried out in compliance with the Helsinki Declaration.
Consent for publication
Not applicable.
Competing interests
The authors declare that they have no competing interests.
Publisher's Note
Springer Nature remains neutral with regard to jurisdictional claims in published maps and institutional affiliations.
Open Access
This article is distributed under the terms of the Creative Commons Attribution 4.0 International License (
http://​creativecommons.​org/​licenses/​by/​4.​0/​
), which permits unrestricted use, distribution, and reproduction in any medium, provided you give appropriate credit to the original author(s) and the source, provide a link to the Creative Commons license, and indicate if changes were made. The Creative Commons Public Domain Dedication waiver (
http://​creativecommons.​org/​publicdomain/​zero/​1.​0/​
) applies to the data made available in this article, unless otherwise stated.