01.12.2018 | Research article | Ausgabe 1/2018 Open Access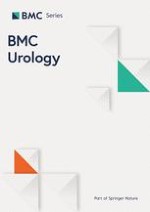 Increased expression of immediate early response gene 3 protein promotes aggressive progression and predicts poor prognosis in human bladder cancer
Zeitschrift:
Autoren:

Jianheng Ye, Yanqiong Zhang, Zhiduan Cai, Minyao Jiang, Bowei Li, Guo Chen, Yanru Zeng, Yuxiang Liang, Shulin Wu, Zongwei Wang, Huichan He, Weide Zhong, Chin-Lee Wu
Wichtige Hinweise
Electronic supplementary material
Jianheng Ye and Yanqiong Zhang contributed equally to this work.
Abstract
Background
Immediate early response gene 3 (IER3) is a stress-inducible gene, which exerts diverse effects in regulating cell apoptosis and cell cycle. Growing evidence shows that IER3 functions either as an oncogene or a tumor suppressor in various human cancers with a cancer type-dependent manner. However, the involvement of IER3 in human bladder cancer (BCa) has not been elucidated. In the current study, we aimed to investigate the expression pattern and the clinical significance of IER3 in BCa.
Methods
We performed immunohistochemistry analysis to examine the subcellular localization and the expression levels of IER3 protein in 88 BCa specimens obtained from Department of Pathology in Massachusetts General Hospital. The associations of IER3 protein expression with various clinicopathological features and patients' overall survival were statistically evaluated.
Results
IER3 protein was mainly expressed in the cytoplasm in bladder cancer cell. Of 88 BCa tissue specimens, 39 (44.3%) showed high expression of IER3 protein and 49 (55.7%) showed low expression. High IER3 protein expression was significantly associated with high pathologic nodal stage (
p
= 0.018). Kaplan-Meier analysis revealed that the overall survival of BCa patients with overexpression of IER3 protein was shorter than that with low expression (
p
< 0.01). Multivariate analysis by Cox regression further identified IER3 as an independent prognostic factor of BCa patients (
p
= 0.010).
Conclusions
Our findings suggest for the first time that the increased expression of IER3 protein may promote the aggressive progression of BCa. Importantly, IER3 may be a potential prognostic marker for BCa patients.