10.11.2017 | Original Research Paper | Ausgabe 2/2018 Open Access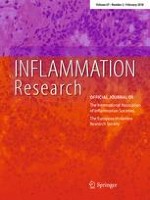 Increased frequencies of circulating CXCL10-, CXCL8- and CCL4-producing monocytes and Siglec-3-expressing myeloid dendritic cells in systemic sclerosis patients
Zeitschrift:
Autoren:

Tiago Carvalheiro, Sara Horta, Joel A. G. van Roon, Mariana Santiago, Maria J. Salvador, Hélder Trindade, Timothy R. D. J. Radstake, José A. P. da Silva, Artur Paiva
Wichtige Hinweise
Responsible Editor: Yoshiya Tanaka.
Electronic supplementary material
Tiago Carvalheiro and Sara Horta equally contributed to this work.
Abstract
Objective
To investigate the ex vivo pro-inflammatory properties of classical and non-classical monocytes as well as myeloid dendritic cells (mDCs) in systemic sclerosis (SSc) patients.
Methods
Spontaneous production of CXCL10, CCL4, CXCL8 and IL-6 was intracellularly evaluated in classical, non-classical monocytes and Siglec-3-expressing mDCs from peripheral blood of SSc patients and healthy controls (HC) through flow cytometry. In addition, production of these cytokines was determined upon toll-like receptor (TLR) 4 plus Interferon-γ (IFN-γ) stimulation.
Results
The frequency of non-classical monocytes spontaneously producing CXCL10 was increased in both limited (lcSSc) and diffuse cutaneous (dcSSC) subsets of SSc patients and CCL4 was augmented in dcSSc patients. The proportion of CCL4-producing mDCs was also elevated in dcSSc patients and the percentage of mDCS producing CXCL10 only in lcSSc patients. Upon stimulation, the frequency of non-classical monocytes expressing CXCL8 was increased in both patient groups and mDCs expressing CXCL8 only in lcSSc. Moreover, these parameters in unsupervised clustering analysis identify a subset of patients which are characterized by lung fibrosis and reduced pulmonary function.
Conclusions
These data point towards a role of activated non-classical monocytes and mDCs producing enhanced levels of proinflammatory cytokines in SSc, potentially contributing to lung fibrosis.