01.12.2017 | Research | Ausgabe 1/2017 Open Access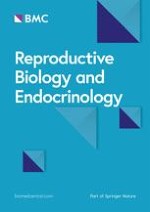 Increased Krüppel-like factor 12 in recurrent implantation failure impairs endometrial decidualization by repressing Nur77 expression
Zeitschrift:
Autoren:

Chenyang Huang, Yue Jiang, Jianjun Zhou, Qiang Yan, Ruiwei Jiang, Xi Cheng, Jun Xing, Lijun Ding, Jianxin Sun, Guijun Yan, Haixiang Sun
Wichtige Hinweise
Electronic supplementary material
The online version of this article (doi:
10.​1186/​s12958-017-0243-8
) contains supplementary material, which is available to authorized users.
Abstract
Background
Decidualization is a prerequisite for successful implantation and the establishment of pregnancy. A critical role of impaired decidualization in subfertility has been established. In human endometrial stromal cells (hESCs), Krüppel-like factor 12 (KLF12) and Nur77 are novel regulators of decidualization. We investigated whether KLF12 impaired the decidualization of hESCs in recurrent implantation failure (RIF) patients.
Methods
Endometrial tissues and hESCs were collected from RIF patients (
n
 = 34) and fertile controls (
n
 = 30) for in vitro analysis. Primary hESCs isolated from RIF endometrial tissues were used to evaluate the biological functions of KLF12 and Nur77. In addition, their molecular mechanisms were investigated by adenovirus-mediated overexpression. Gene expression regulation was examined by real-time-quantitative PCR (qRT-PCR), immunostaining and luciferase reporter assay. Further, blastocyst-like spheroid (BLS) and blastocyst implantation models were performed to examine the roles of KLF12 and Nur77 during embryo expansion on hESCs.
Results
hESCs from the RIF patients showed a poor decidual response, mainly characterized by decreased decidual prolactin (dPRL) secretion, impaired transformation and limited BLS expansion. In addition, KLF12 expression was increased in endometrial tissues from the RIF patients compared with those from the fertile controls, especially in stromal compartments. The opposite results were observed for Nur77 expression in these tissues. KLF12 repressed hESC decidualization by decreasing Nur77 expression. Mechanistically, KLF12 bound to a conserved site in the Nur77 promoter region. Nur77 overexpression significantly reversed the KLF12-mediated repression of dPRL expression, decidual transformation and BLS/blastocyst expansion.
Conclusions
KLF12 impairs endometrial decidualization by transcriptionally repressing Nur77, and Nur77 overexpression reverses the poor decidual response of hESCs in RIF patients.