29.11.2017 | Original Article | Ausgabe 1/2018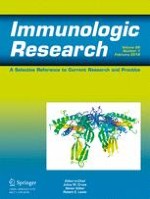 Increased lipid and protein oxidation and lowered anti-oxidant defenses in systemic lupus erythematosus are associated with severity of illness, autoimmunity, increased adhesion molecules, and Th1 and Th17 immune shift
Zeitschrift:
Autoren:

Bruna Miglioranza Scavuzzi, Andréa Name Colado Simão, Tatiana Mayumi Veiga Iriyoda, Marcell Alysson Batisti Lozovoy, Nicole Perugini Stadtlober, Lorena Flor da Rosa Franchi Santos, Tamires Flauzino, Fabiano Aparecido de Medeiros, Marcelo Cândido de Sá, Luana Consentin, Edna Maria Vissoci Reiche, Michael Maes, Isaias Dichi
Abstract
This study investigated nitro-oxidative stress in patients with systemic lupus erythematosus (SLE) in association with disease activity, immune-inflammatory biomarkers, and adhesion molecules. Two-hundred-four patients with SLE and 256 healthy volunteers were enrolled in this case-control study, which measured nitro-oxidative stress biomarkers, including lipid peroxides (LOOH), advanced oxidation protein products (AOPPs), nitric oxide metabolites (NO
x
), sulfhydryl (−SH) groups, products of deoxyribonucleic acid (DNA)/ribonucleic acid (RNA) oxidative degradation, and total radical-trapping anti-oxidant parameter (TRAP). Also measured were anti-nuclear antibodies (ANAs), antibodies against double-stranded DNA (dsDNA), plasma levels of diverse cytokines, C-reactive protein, and adhesion molecules. LOOH (
p
< 0.001) and AOPP (
p
< 0.001) were significantly higher, while TRAP was significantly lower (
p
< 0.001) in SLE patients than in controls. AOPP and LOOH were significantly and positively associated with SLE disease activity index (SLEDAI) scores, anti-nuclear antibodies, and antibodies against double-stranded DNA (anti-dsDNA) levels, while TRAP was significantly and inversely correlated with SLEDAI, ANA, and dsDNA antibody levels. There were significant positive associations between AOPP and LOOH and immune-inflammatory markers, indicating T helper (Th)-17 and Th1 bias and Th1 + Th17/Th2 ratio (
p
= 0.002 and
p
= 0.001, respectively). AOPP and LOOH (positively) and TRAP (inversely) were associated with adhesion molecule expression. A model predicting SLE was computed showing that, using LOOH, AOPP, NO
x
, adhesion molecules, and body mass index, 94.2% of the patients were correctly classified with a specificity of 91.5%. Increased nitro-oxidative stress takes part in the (auto)immune pathophysiology of SLE and modulates severity of illness and adhesion molecule expression.