01.12.2014 | Research article | Ausgabe 1/2014 Open Access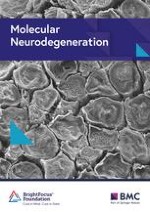 Increased mtDNA mutations with aging promotes amyloid accumulation and brain atrophy in the APP/Ld transgenic mouse model of Alzheimer's disease
Zeitschrift:
Autoren:

Lokesh Kukreja, Gregory C Kujoth, Tomas A Prolla, Fred Van Leuven, Robert Vassar
Wichtige Hinweise
Electronic supplementary material
The online version of this article (doi:
10.​1186/​1750-1326-9-16
) contains supplementary material, which is available to authorized users.
Competing interests
The authors declare that they have no competing interests.
Authors' contributions
LK bred the mice, performed the experiments, and wrote the manuscript. RV conceived of the study, participated in its design and coordination, and edited the manuscript. GCK and TAP provided
PolgA
D257A

/

D257A
mitochondrial DNA mutator mice, and FVL provided APPV717I (APP/Ld) mice. All authors participated in the interpretation of results, read and approved the final manuscript.
Abstract
Background
The role of mitochondrial dysfunction has long been implicated in age-related brain pathology, including Alzheimer's disease (AD). However, the mechanism by which mitochondrial dysfunction may cause neurodegeneration in AD is unclear. To model mitochondrial dysfunction
in vivo
, we utilized mice that harbor a knockin mutation that inactivates the proofreading function of mitochondrial DNA polymerase γ (
PolgA
D257A), so that these mice accumulate mitochondrial DNA mutations with age.
PolgA
D257A mice develop a myriad of mitochondrial bioenergetic defects and physical phenotypes that mimic premature ageing, with subsequent death around one year of age.
Results
We crossed the D257A mice with a well-established transgenic AD mouse model (APP/Ld) that develops amyloid plaques. We hypothesized that mitochondrial dysfunction would affect Aβ synthesis and/or clearance, thus contributing to amyloidogenesis and triggering neurodegeneration. Initially, we discovered that Aβ42 levels along with Aβ42 plaque density were increased in D257A; APP/Ld bigenic mice compared to APP/Ld monogenic mice. Elevated Aβ production was not responsible for increased amyloid pathology, as levels of BACE1, PS1, C99, and C83 were unchanged in D257A; APP/Ld compared to APP/Ld mice. However, the levels of a major Aβ clearance enzyme, insulin degrading enzyme (IDE), were reduced in mice with the D257A mutation, suggesting this as mechanism for increased amyloid load. In the presence of the APP transgene, D257A mice also exhibited significant brain atrophy with apparent cortical thinning but no frank neuron loss. D257A; APP/Ld mice had increased levels of 17 kDa cleaved caspase-3 and p25, both indicative of neurodegeneration. Moreover, D257A; APP/Ld neurons appeared morphologically disrupted, with swollen and vacuolated nuclei.
Conclusions
Overall, our results implicate synergism between the effects of the
PolgA
D257A mutation and Aβ in causing neurodegeneration. These findings provide insight into mechanisms of mitochondrial dysfunction that may contribute to the pathogenesis of AD via decreased clearance of Aβ.