16.11.2016 | Original Article | Ausgabe 1/2017 Open Access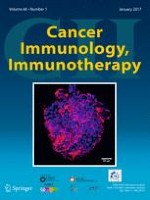 Increased PD-L1 and T-cell infiltration in the presence of HLA class I expression in metastatic high-grade osteosarcoma: a rationale for T-cell-based immunotherapy
Zeitschrift:
Autoren:

Yayan T. Sundara, Marie Kostine, Arjen H. G. Cleven, Judith V. M. G. Bovée, Marco W. Schilham, Anne-Marie Cleton-Jansen
Wichtige Hinweise
Electronic supplementary material
The online version of this article (doi:
10.​1007/​s00262-016-1925-3
) contains supplementary material, which is available to authorized users.
Yayan T. Sundara and Marie Kostine have contributed equally to this work.
Abstract
Introduction
Immunotherapy may be an excellent choice for treating osteosarcoma given its exceptionally high genomic instability, potentially generating neoantigens. In this study, we aim to investigate the HLA class I expression, PD-L1 and tumour-infiltrating lymphocytes in primary osteosarcomas and relapses/metastases, as well as their changes during disease progression.
Materials and methods
Tumour samples from multiple stages of the disease (pretreatment biopsies, surgical resections of primary osteosarcomas, relapses and metastases) were collected and stained for HLA-A (HCA2), HLA-B/C (HC10), β2-microglobulin and PD-L1 using immunohistochemistry on whole sections. Density and type of T-cell infiltrate were characterised by a triple immunofluorescent staining CD3-CD8-FOXP3.
Results
Overall, 85 formalin-fixed, paraffin-embedded blocks from 25 osteosarcoma patients were included. HLA class I expression was detected in 94% of osteosarcomas (strongly positive in 56%, heterogeneous in 38%) and negative or weakly positive in 6%, without differences between the stages of the disease. HLA-A expression was more frequently negative than HLA-B/C. Tumour-infiltrating lymphocytes were highly heterogeneous and mainly observed in tumour areas with expression of HLA class I. Density of T cells was significantly higher in metastases than in primary tumours and local relapses (
p
= 0.0003). Positive PD-L1 expression was found in 13% of primary tumours, 25% of relapses and 48% of metastases and correlated with a high T-cell infiltrate (
p
= 0.002).
Conclusion
An increased number of tumour-infiltrating T cells and PD-L1 expression in metastases compared with primary tumours, suggesting accessibility for T cells, could imply that osteosarcoma patients with metastatic disease may benefit from T-cell-based immunotherapy.