01.12.2017 | Research article | Ausgabe 1/2017 Open Access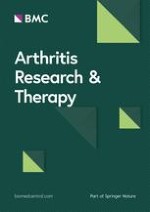 Increased synovial lipodystrophy induced by high fat diet aggravates synovitis in experimental osteoarthritis
Zeitschrift:
Autoren:

Ane Larrañaga-Vera, Ana Lamuedra, Sandra Pérez-Baos, Ivan Prieto-Potin, Leticia Peña, Gabriel Herrero-Beaumont, Raquel Largo
Wichtige Hinweise
Electronic supplementary material
The online version of this article (doi:
10.​1186/​s13075-017-1473-z
) contains supplementary material, which is available to authorized users.
Abstract
Background
Metabolic syndrome (MetS) may be associated with knee osteoarthritis (OA), but the association between the individual components and OA are not well-understood. We aimed to study the effect of hypercholesterolemia on synovial inflammation in knee OA.
Methods
OA was surgically induced in rabbits fed with standard diet (OA group,
n
 = 10) or in rabbits fed with high fat diet (OA-HFD,
n
 = 10). Healthy rabbits receiving standard diet (Control,
n
 = 10) or fed with HFD (HFD,
n
 = 6) were also monitored. Twelve weeks after OA induction, synovial membranes were isolated and processed for studies.
Results
Animals fed HFD showed higher levels of total serum cholesterol, triglycerides and C-reactive protein than control rabbits. Twelve weeks after OA induction, synovial membrane inflammation and macrophage infiltration were increased in rabbits with OA, particularly in the OA-HFD group. Extensive decrease of synovial adipose tissue area, adipocyte size and perilipin-1A synthesis were observed in the OA-HFD group in comparison to the OA and control groups. The HFD further increased the proinflammatory mediators IL-1β, IL-6 and TNF in the OA synovium. However, the synovial gene expression of adipokines, such as leptin and adiponectin, were markedly decreased in the rabbits with OA, especially in the OA-HFD group, in correlation with adipose tissue loss. However, circulating leptin was upregulated in the HFD and OA-HFD groups.
Conclusion
Our results indicate that a HFD is an aggravating factor worsening synovial membrane inflammation during OA, guided by increased infiltration of macrophages and removal of the adipose tissue, together with a remarkable presence of proinflammatory factors. Synovial adipocytes and dyslipemia could probably play pivotal roles in OA joint deterioration in patients with MetS, supporting that the link between obesity and OA transcends mechanical loading.