01.12.2014 | Research article | Ausgabe 1/2014 Open Access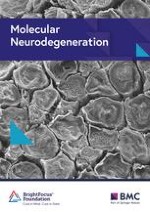 Increasing membrane cholesterol of neurons in culture recapitulates Alzheimer's disease early phenotypes
Zeitschrift:
Autoren:

Catherine Marquer, Jeanne Laine, Luce Dauphinot, Linda Hanbouch, Camille Lemercier-Neuillet, Nathalie Pierrot, Koen Bossers, Mickael Le, Fabian Corlier, Caroline Benstaali, Frédéric Saudou, Gopal Thinakaran, Nathalie Cartier, Jean-Noël Octave, Charles Duyckaerts, Marie-Claude Potier
Wichtige Hinweise
Electronic supplementary material
The online version of this article (doi:
10.​1186/​1750-1326-9-60
) contains supplementary material, which is available to authorized users.
Competing interests
The authors declare that they have no competing interests.
Authors' contributions
CM and MCP designed research. CM, LH, CLN and CB performed primary cultures and electroporation. CM prepared Aβ samples from primary cultures. NP performed Aβ dosage by MSD. CM, LH and ML performed immunocytochemistry and confocal microscopy. CM and LH analyzed endosomes number and size with ICY software. JL performed electron microscopy and quantified the size of endosomes and number of ILVs. CM performed video-microscopy experiments and analyzed the data. CM and LD prepared RNA samples from primary cultures. LD performed analysis of transcriptomics data. KB provided transcriptomics data from patients. CM, FC and LD performed statistical analysis. CM and MCP wrote the paper with critical evaluation by JL, LD, KB, NP, FS, GT, JNO, NC and CD. All authors read and approved the final manuscript.
Abstract
Background
It is suspected that excess of brain cholesterol plays a role in Alzheimer's disease (AD). Membrane-associated cholesterol was shown to be increased in the brain of individuals with sporadic AD and to correlate with the severity of the disease. We hypothesized that an increase of membrane cholesterol could trigger sporadic AD early phenotypes.
Results
We thus acutely loaded the plasma membrane of cultured neurons with cholesterol to reach the 30% increase observed in AD brains. We found changes in gene expression profiles that are reminiscent of early AD stages. We also observed early AD cellular phenotypes. Indeed we found enlarged and aggregated early endosomes using confocal and electron microscopy after immunocytochemistry. In addition amyloid precursor protein vesicular transport was inhibited in neuronal processes, as seen by live-imaging. Finally transient membrane cholesterol loading lead to significantly increased amyloid-β42 secretion.
Conclusions
Membrane cholesterol increase in cultured neurons reproduces most early AD changes and could thus be a relevant model for deciphering AD mechanisms and identifying new therapeutic targets.