01.12.2018 | Original investigation | Ausgabe 1/2018 Open Access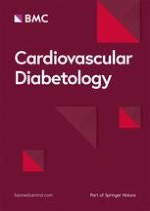 Individualised treatment targets in patients with type-2 diabetes and hypertension
Zeitschrift:
Autoren:

Roland E. Schmieder, Diethelm Tschöpe, Cornelia Koch, Taoufik Ouarrak, Anselm K. Gitt, for the DIALOGUE study group
Wichtige Hinweise
Electronic supplementary material
Abstract
Aim
Patients with type-2 diabetes mellitus (T2DM) are at high risk of cardiovascular events, accentuated in the presence of hypertension. At present, it is unclear to what extent the guidelines for the management of T2DM, advocating reduction in HbA1c levels to below target levels, are being adhered to in clinical practice.
Methods
DIALOGUE was a prospective, observational, non‐interventional registry performed across multiple centres in Germany. Patients aged 18 years or older who had T2DM and hypertension for whom the treating physician considered blood glucose lowering medication as inadequate and/or not safe/tolerable and chose to add a further oral drug or switch drug treatment were included. Patients were assigned a treatment target HbA1c value (≤ 6.5% [strict]; > 6.5 to ≤ 7.0% [intermediate]; > 7.0 to ≤ 7.5% [lenient]).
Results
8568 patients with T2DM and hypertension were enrolled. 6691 (78.1%) had 12-month follow-up. Patients who were assigned a strict HbA1c treatment target (n = 2644) were younger, had shorter diabetes duration, and less comorbidity in comparison to those with intermediate (n = 2912) or lenient targets (n = 1135). Only 53.1% of patients achieved their HbA1c treatment target (46.2% [strict], 56.8% [intermediate], 59.4% [lenient]). There was little sign of treatment intensification for patients that had not achieved their HbA1c target.
Conclusions
Achievement of treatment targets was poor, leaving many patients with sub-optimal blood glucose levels. The apparent reluctance of physicians to intensify antidiabetic drug therapy is alarming, especially considering the evidence pointing to an association of hyperglycaemia and microvascular complications in patients with T2DM.