01.06.2014 | Original Article | Ausgabe 6/2014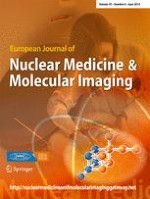 Individualized dosimetry-based activity reduction of 90Y-DOTATOC prevents severe and rapid kidney function deterioration from peptide receptor radionuclide therapy
Autoren:

Sofie Van Binnebeek, Kristof Baete, Bert Vanbilloen, Christelle Terwinghe, Michel Koole, Felix M. Mottaghy, Paul M. Clement, Luc Mortelmans, Karin Haustermans, Eric Van Cutsem, Alfons Verbruggen, Kris Bogaerts, Chris Verslype, Christophe M. Deroose
Wichtige Hinweise
Electronic supplementary material
The online version of this article (doi:
10.​1007/​s00259-013-2670-x
) contains supplementary material, which is available to authorized users.
Abstract
Purpose
Assessment of kidney function evolution after 90Y-DOTATOC peptide receptor radionuclide therapy (PRRT) with capped activity administration based on a 37-Gy threshold of biological effective dose (BED) to the kidney.
Methods
In a prospective phase II study, patients with metastasized neuroendocrine tumours were evaluated for therapy using 185 MBq 111In-pentetreotide with amino acid coinfusion. Planar whole-body images were acquired at four time-points after injection and kidney volumes were measured using CT/MRI. BED to the kidneys was estimated using an extended BED formula and biexponential renal clearance. Based on published BED dose–toxicity relationships, we allowed a maximal kidney BED of 37 Gy; if the calculated BED exceeded 37 Gy, treatment activity was reduced accordingly. Kidney function was assessed at baseline and at 18 months, predominantly using 51Cr-EDTA. The rate of renal function decline was expressed as annual glomerular filtration rate loss (aGFRL).
Results
Only 22 of 50 patients reached the 18-months time-point, with most missing patients having died due to disease progression. In the 22 patients who reached 18 months, no rapid kidney function deterioration was observed over the 18 months, aGFRL >33 % was not seen, and only three patients showed an increase of one toxicity grade and one patient an increase of two grades. No significant correlations between kidney volume (
p
 = 0.35), baseline GFR (
p
 = 0.18), risk factors for renal function loss (
p
 = 0.74) and aGFRL were observed. Among the 28 patients who did not reach 18 months, one developed grade 4 kidney toxicity at 15 months after PRRT.
Conclusion
Prospective dosimetry using a 37 Gy BED as the threshold for kidney toxicity is a good guide for 90Y-DOTATOC PRRT and is associated with a low risk of rapid renal function deterioration and evolution to severe nephrotoxicity.