12.09.2019 | Short Communication | Ausgabe 12/2019 Open Access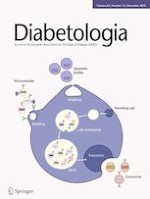 Induced pluripotent stem cell macrophages present antigen to proinsulin-specific T cell receptors from donor-matched islet-infiltrating T cells in type 1 diabetes
Zeitschrift:
Autoren:

Kriti Joshi, Colleen Elso, Ali Motazedian, Tanya Labonne, Jacqueline V. Schiesser, Fergus Cameron, Stuart I. Mannering, Andrew G. Elefanty, Edouard G. Stanley
Wichtige Hinweise
Electronic supplementary material
Stuart I. Mannering, Andrew G. Elefanty and Edouard G. Stanley contributed equally to this study.
Publisher's note
Springer Nature remains neutral with regard to jurisdictional claims in published maps and institutional affiliations.
Abstract
Aims/hypothesis
Type 1 diabetes is an autoimmune disorder characterised by loss of insulin-producing beta cells of the pancreas. Progress in understanding the cellular and molecular mechanisms underlying the human disease has been hampered by a dearth of appropriate human experimental models. We previously reported the characterisation of islet-infiltrating CD4+ T cells from a deceased organ donor who had type 1 diabetes.
Methods
Induced pluripotent stem cell (iPSC) lines derived from the above donor were differentiated into CD14+ macrophages and tested for their capacity to present antigen to T cell receptors (TCRs) derived from islet-infiltrating CD4+ T cells from the same donor.
Results
The iPSC macrophages displayed typical macrophage morphology, surface markers (CD14, CD86, CD16 and CD11b) and were phagocytic. In response to IFNγ treatment, iPSC macrophages upregulated expression of HLA class II, a characteristic that correlated with their capacity to present epitopes derived from proinsulin C-peptide to a T cell line expressing TCRs derived from islet-infiltrating CD4+ T cells of the original donor. T cell activation was specifically blocked by anti-HLA-DQ antibodies but not by antibodies directed against HLA-DR.
Conclusions/interpretation
This study provides a proof of principle for the use of iPSC-derived immune cells for modelling key cellular interactions in human type 1 diabetes.