12.01.2019 | Sleep Breathing Physiology and Disorders • Original Article | Ausgabe 3/2019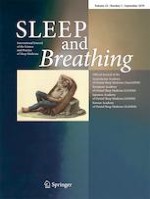 Inducers of post-apneic blood pressure fluctuation monitored by pulse transfer time measurement in obstructive sleep apnea varied with syndrome severity
Zeitschrift:
Autoren:

Jing Xu, Ning Ding, Liang Chen, Yi Zhang, Mao Huang, Yanli Wang, Zili Meng, Xilong Zhang
Wichtige Hinweise
Ning Ding contributed equally to the first author Jing Xu
Publisher's note
Springer Nature remains neutral with regard to jurisdictional claims in published maps and institutional affiliations.
Comment
In the present study, authors attempted to describe several factors (stimuli associated with repetitive obstructive apneas) which best determine cardiovascular response to apneas measured as HRV or BP-surrogate (pulse transit time) fluctuations. In this observational study, authors concluded that the severity of OSA denoted by standard AHI cutoff levels may have an impact on the findings which, as the authors state, may partially explain previous discrepancies reported in this regard. This is a novel finding which is worth further discussion.
Jacek Wolf
Gdansk, Poland
Abstract
Purpose
This study investigated the properties of blood pressure (BP) fluctuation and sympathovagal imbalance with the severity of OSAS.
Methods
Nocturnal BP was continuously monitored by polysomnography for mild (
n
 = 33), moderate (
n
 = 34), and severe (
n
 = 37) OSAS patients. Apnea-related systolic BP elevation (△SBP) indicated the amplitude of BP fluctuation. The SBP index, number of △SBP > 10 mmHg/h of sleep, indicated the frequency of significant BP fluctuations. The low frequency/high frequency (LF/HF) ratios indicated heart rate variability and sympathovagal imbalance.
Results
△SBP and the SBP index were the highest in severe OSAS (12.9 ± 2.3 mmHg and 33.7 ± 14.7/h), followed by moderate OSAS (9.5 ± 2.6 mmHg and 7.1 ± 4.4/h), and mild OSAS (8.3 ± 1.6 mmHg and 3.4 ± 2.1/h). The LF/HF ratios in severe OSAS were significantly higher than that in moderate and mild OSAS. In mild OSAS, arousal played a more important role in BP fluctuation. In moderate OSAS, the oxygen desaturation index (ODI) and the SBP index were correlated. The difference in △SBP induced by hypoxia or by arousal was not significant. In severe OSAS, the apnea-hypopnea index (AHI) and LF/HF ratio were correlated with the SBP index, and △SBP was larger with hypoxia than arousal.
Conclusions
BP fluctuation and sympathovagal imbalance were both related to obstructive sleep apnea severity. The influence of arousal and hypoxia on BP fluctuation varied with OSAS severity.
Trial registration
NCT02876471