07.08.2018 | Original Paper | Ausgabe 6/2018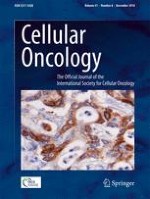 Induction of apoptosis via proteasome inhibition in leukemia/lymphoma cells by two potent piperidones
Zeitschrift:
Autoren:

Lisett Contreras, Ruben I. Calderon, Armando Varela-Ramirez, Hong-Yu Zhang, Yuan Quan, Umashankar Das, Jonathan R. Dimmock, Rachid Skouta, Renato J. Aguilera
Wichtige Hinweise
Electronic supplementary material
Lisett Contreras and Ruben I. Calderon contributed equally as first authors
Abstract
Purpose
Previously, compounds containing a piperidone structure have been shown to be highly cytotoxic to cancer cells. Recently, we found that the piperidone compound P2 exhibits a potent anti-neoplastic activity against human breast cancer-derived cells. Here, we aimed to evaluate two piperidone compounds, P1 and P2, for their potential anti-neoplastic activity against human leukemia/lymphoma-derived cells.
Methods
Cytotoxicity and apoptosis induction were evaluated using MTS, annexin V-FITC/PI and mitochondrial membrane potential polychromatic assays to confirm the mode of action of the piperidone compounds. The effects of compound P1 and P2 treatment on gene expression were assessed using AmpliSeq analysis and, subsequently, confirmed by RT-qPCR and Western blotting.
Results
We found that the two related piperidone compounds P1 and P2 selectively killed the leukemia/lymphoma cells tested at nanomolar concentrations through induction of the intrinsic apoptotic pathway, as demonstrated by mitochondrial depolarization and caspase-3 activation. AmpliSeq-based transcriptome analyses of the effects of compounds P1 and P2 on HL-60 acute leukemia cells revealed a differential expression of hundreds of genes, 358 of which were found to be affected by both. Additional pathway analyses revealed that a significant number of the common genes were related to the unfolded protein response, implying a possible role of the two compounds in the induction of proteotoxic stress. Subsequent analyses of the transcriptome data revealed that P1 and P2 induced similar gene expression alterations as other well-known proteasome inhibitors. Finally, we found that Noxa, an important mediator of the activity of proteasome inhibitors, was significantly upregulated at both the mRNA and protein levels, indicating a possible role in the cytotoxic mechanism induced by P1 and P2.
Conclusions
Our data indicate that the cytotoxic activity of P1 and P2 on leukemia/lymphoma cells is mediated by proteasome inhibition, leading to activation of pro-apoptotic pathways.