01.12.2013 | Research | Ausgabe 1/2013 Open Access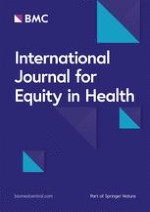 Inequalities in multimorbidity in South Africa
Zeitschrift:
Autor:

John Ele-Ojo Ataguba
Wichtige Hinweise
Electronic supplementary material
The online version of this article (doi:
10.​1186/​1475-9276-12-64
) contains supplementary material, which is available to authorized users.
Competing interests
The author declares that there are no competing interests.
Introduction
Recently, there has been a renewed research interest in multimorbidity (i.e., the case where an individual suffers from two or more disease conditions at the same time) [
1
,
2
]. However, this research area remains in its infancy [
2
]. Though its epidemiological pattern is similar to that of non-communicable diseases [
3
], very little is known about the socioeconomic distribution of multimorbidity. Is the usual reported socioeconomic gradient for ill-health also present for multimorbidity? Traditionally, studies on health inequalities have focused mainly on a single disease condition or different disease conditions in isolation [
4
–
6
] but not multimorbidity
per se
. The dearth of studies relevant to this issue, even in industrialised countries, is surprising given that prevalence of multimorbidity is very high in these countries. Indeed, multimorbidity in industrialised countries is described as the rule rather than the exception, at least in primary care [
2
]. For instance in the United States, it is estimated that over 80 million people will be affected by multimorbidity by 2020 [
2
].
The prevalence of multimorbidity is generally associated with "increasing age, lower level of education, and public health insurance" [
1
] (p.367). Thus, its burden increases as a population ages [
7
]. This can have considerable impact on families, especially in settings where poverty is widespread and comprehensive health care is lacking [
7
]. However, in resource-poor countries, including those in Africa, research into inequalities in multimorbidity is even more limited. It is arguably true that, proportionately, the current burden of multimorbidity in these settings far outstrips that of developed and industrialised countries [
8
]. Multimorbidity is also noted to reduce quality of life significantly. This is "not only in terms of how people felt about their lives generally, but also in terms of the extent of their psychological distress" [
9
] (p.202). This will further increase the cost of treating multimorbidity. For instance in Australia, it was found that the cost of treating a person with multimorbidity is five times that for other people with only one illness [
9
].
In South Africa, inequalities in health have been extensively reported with the poor bearing a disproportionate burden [
4
,
10
]. As noted earlier, such studies did not focus on multimorbidity but on either a specific group (e.g., children) or different disease conditions. In order to provide more pertinent empirical evidence, this paper explores inequality in multimorbidity generally in South Africa. Specifically, the paper examines socioeconomic inequality in multimorbidity in
illness
and
disability
between 2005 and 2008.
Methodology
Data
Statistical methods
This paper uses concentration indices that have been extensively used to analyse inequalities in health. They are used to assess relative inequality in health. Compared to other measures of inequality, concentration indices yield consistent ranking of units across socioeconomic groupings; they are sensitive to changes in population distribution across socioeconomic groups and are consistent with experience of health (or ill-health) across the distribution of socioeconomic status (SES) [
18
,
19
]. This index is also often further standardised, for instance, to account for age-sex variations in reported health or health outcomes. This standardisation is used to describe the distribution of health/ill-health by socioeconomic groups conditional on confounding demographic factors such as age and sex. In this paper, indirect standardisation was used to correct the distribution of reported health/ill-health by comparing it with that expected of the actual age/sex distribution [
19
,
20
].
For an ill-health variable (
h
) (which in this case is any of the dichotomous variables indicating multimorbidity) with mean (
μ
) and the rank of the SES measure (
r
), the indirectly standardised concentration index (
β
) is obtained as an estimate from the simple ordinary least squares (OLS) regression.
where
x
ij
are the confounding variables (age and sex in this case),
is the variance of the rank of the SES measure and
ϵ
is the stochastic error term [
19
,
20
]. The concentration index (
β
) measures the extent of inequalities in health (ill-health) that are systematically associated with socioeconomic status [
18
].
The value of the concentration index lies between −1 (i.e., when all the population's ill-health is concentrated on the most disadvantaged person) and +1 (when all the population's ill-health is concentrated on the least disadvantaged person). A concentration index value of zero indicates either that the population's ill-health is evenly concentrated along the distribution of SES or that on average, positive and negative effects cancel out across the SES distribution [
4
]. In general, a positive concentration index indicates that the distribution of ill-health is higher among the richer SES groups while a negative index indicates the opposite.
With dichotomous variables, the concentration index will not lie within the normal bands but between
μ
-1 and 1-
μ
for large samples [
21
,
22
]. This suggests the need for some form of normalisation. This paper uses Erreygers' normalisation procedure. Wagstaff [
22
] has shown that Erreygers' [
23
] index (or correction of the concentration index) can be conveniently written as:
where
C
= the standard concentration index,
μ
is the mean of the health/ill-health variable with its range defined as (
b
–
a
).
Measuring SES
Debates exist as to the right measure of SES for inequality analysis [
24
,
25
]. While SES can be measured using income, expenditure, education, class, or a composite index, this paper uses composite indices as proxy of socioeconomic status [
26
] based on selected variables (as set out below). This is because the datasets do not contain reliable information on household income and expenditure. The procedure of principal components analysis was used to compute the composite indices [
26
]. Because the paper uses several rounds of the GHS, the same set of eleven variables (type of dwelling, roof, and wall material, access to safe drinking water, toilet, and source of energy for lighting, and ownership of car, landline, cell phone, TV, and radio) were selected and used to construct the index in each year. Dummy variables were created for each variable signifying the presence of the item in question. Basically, principal components analysis uses statistical techniques to determine the weights (
w
k
as shown below) attached to each variable in aggregating them into an index.
The composite index value for individual
i
(
IC
i
) is computed as:
where
a
ik
is the value of the variable (dummy)
k
for household
i
,
a
k
is its sample mean,
s
k
is its sample standard deviation, and
w
k
are the weights obtained from the first principal component.
These composite indices were used to rank the sample from poorest to richest. Stata® version 12 [
27
] was used for all analyses.
Results
Discussion
Conclusion
Multimorbidity affects a substantial number of South Africans. Its distribution shows that the poor bear a greater burden. This is more so for disability than for illness. The dearth of information on this distribution in many developed and developing countries can be attributed to the lack of data that link socioeconomic status with the incidence of multimorbidity. Based on the findings in this paper, there is a need to design policies that address multimorbidity in South Africa. These policies, with insights from the World Health Organisation's Commission on Social Determinants of Health, should be coherent and involve more than the health sector. Further, there is a need to design national surveys that specifically assess multimorbidity.
Acknowledgements
The author would like to acknowledge the helpful comments provided by Gavin Mooney, the editor and two anonymous reviewers. The editorial assistance provided by Allison Stevens is also acknowledged. The usual disclaimer applies.
This article is published under license to BioMed Central Ltd. This is an Open Access article distributed under the terms of the Creative Commons Attribution License (
http://​creativecommons.​org/​licenses/​by/​2.​0
), which permits unrestricted use, distribution, and reproduction in any medium, provided the original work is properly cited.
Competing interests
The author declares that there are no competing interests.