01.02.2013 | Original Article | Ausgabe 1/2013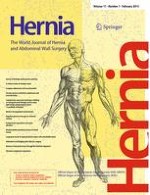 Infected large pore meshes may be salvaged by topical negative pressure therapy
Zeitschrift:
Autoren:

F. Berrevoet, A. Vanlander, M. Sainz-Barriga, X. Rogiers, R. Troisi
Abstract
Purpose
To evaluate the efficacy of negative pressure therapy for superficial and deep mesh infections after ventral and incisional hernia repair by a prospective monocentric observational study.
Methods
During a 6-year period, 724 consecutive open ventral and incisional hernia repairs were performed. Pre- and intraoperative data as well as postoperative complications were prospectively recorded. In case of wound infection, negative pressure therapy (NPT) was our primary treatment.
Results
Sixty-three patients (8.7 %) were treated using negative pressure therapy after primary ventral and incisional hernia repair. Infectious complications needing NPT occurred in 54 patients in the retromuscular group (54/523; 10.3 %), none when laparoscopically treated and in 9 patients (9/143; 6.3 %) treated by an open intraperitoneal mesh technique. Considering outcome, all meshes were completely salvaged in the retromuscular mesh group after a median of 5 dressing changes (range, 2–9), while in the intraperitoneal mesh, group 3 meshes needed complete (
n
= 2) or partial (
n
= 1) excision. Mean duration to complete wound closure was 44 days (range, 26–63 days).
Conclusion
NPT is a useful adjunct for salvage of deep infected meshes, particularly when large pore monofilament mesh is used.