16.04.2018 | Original | Ausgabe 5/2018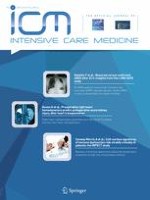 Infection-related ventilator-associated complications in ICU patients colonised with extended-spectrum β-lactamase-producing Enterobacteriaceae
Zeitschrift:
Autoren:

François Barbier, Sébastien Bailly, Carole Schwebel, Laurent Papazian, Élie Azoulay, Hatem Kallel, Shidasp Siami, Laurent Argaud, Guillaume Marcotte, Benoît Misset, Jean Reignier, Michaël Darmon, Jean-Ralph Zahar, Dany Goldgran-Toledano, Étienne de Montmollin, Bertrand Souweine, Bruno Mourvillier, Jean-François Timsit, for the OUTCOMEREA Study Group
Wichtige Hinweise
Electronic supplementary material
Members of the OUTCOMEREA Study Group are listed in the Acknowledgements.
François Barbier and Sébastien Bailly contributed equally to this work.
Abstract
Purpose
To investigate the clinical significance of infection-related ventilator-associated complications (IVAC) and their impact on carbapenem consumption in mechanically ventilated (MV) patients colonised with extended-spectrum β-lactamase-producing Enterobacteriaceae (ESBLE).
Methods
Inception cohort study from the French prospective multicenter OUTCOMEREA database (17 ICUs, 1997–2015) including all ESBLE carriers (systematic rectal swabbing at admission then weekly and/or urinary or superficial surgical site colonisation) with MV duration > 48 h and ≥ 1 episode of IVAC after carriage documentation. All ICU-acquired infections were microbiologically documented.
Results
The 318 enrolled ESBLE carriers (median age 68 years; males 67%; medical admission 68%; imported carriage 53%) experienced a total of 576 IVAC comprising 361 episodes (63%) without documented infection, 124 (21%) related to infections other than ventilator-associated pneumonia (VAP), 73 (13%) related to non-ESBLE VAP and 18 (3%) related to ESBLE VAP. Overall, ESBLE infections accounted for only 43 episodes (7%). Carbapenem exposure within the preceding 3 days was the sole independent predictor of ESBLE infection as the causative event of IVAC, with a protective effect (adjusted odds ratio 0.2, 95% confidence interval 0.05–0.6;
P
 < 0.01). Carbapenems were initiated in 9% of IVAC without infection, 15% of IVAC related to non-VAP infections, 42% of IVAC related to non-ESBLE VAP, and 56% of IVAC related to ESBLE VAP (ESBLE VAP versus non-ESBLE VAP:
P
 = 0.43).
Conclusions
IVAC in ESBLE carriers mostly reflect noninfectious events but act as a strong driver of empirical carbapenem consumption. ESBLE infections are scarce yet hard to predict, strengthening the need for novel diagnostic approaches and carbapenem-sparing alternatives.